You can view and manage your subscriptions in GonnaOrder's billing section. Your billing information and invoices are also available in this section.
The price for a GonnaOrder subscription is always up-to-date at www.gonnaorder.com/pricing, and we invite you to check from time to time. We will also notify you via email if there are any price changes in the future.
We have three subscription levels/statuses:
14-day free unlimited trial: This covers the first 14 days of your membership. Your store can receive unlimited orders and menu views.
Limited freemium: Stores without a subscription can receive up to 5 orders per month. After receiving five orders, ordering is disabled, but the contactless menu functionality remains. Customers can view your menu unlimited times. Your store enters this level if the trial period ends before you subscribe. Stores with expired subscriptions also have this status.
Active: Your store has a paid subscription and the status is set to active. You can receive unlimited orders and use all GonnaOrder features. Additionally, you will get prioritized support through email and chat.
---
On This Page
---
Yearly and Monthly Subscriptions
GonnaOrder has two subscription types; Yearly and monthly. Regardless of the plan you choose for your business, GonnaOrder will send you important about your subscription including confirmation, reminders, and subscription expiry notice.
Yearly Subscription
GonnaOrder recommends a yearly subscription for all stores. With a yearly plan, you can receive unlimited orders throughout the year without worrying about the expiry of your subscription. The subscription fee is also significantly lower if you pay for the annual plan.
The yearly subscription can either be paid once (for 1 year), or you can save your credit card and have your subscription automatically renewed upon expiry.
GonnaOrder uses Stripe and Paypal as payment providers. Therefore, you can pay for the annual subscription using payment methods supported by Stripe or Paypal. However, you will not be able to pay for a recurring annual subscription with Paypal.
---
Recurring Monthly Subscription
With a monthly subscription, GonnaOrder will charge your credit card monthly. Your credit card details will be securely saved to ensure automatic renewal and continuation of service. Unfortunately, you cannot use Paypal to pay for a monthly subscription, but you can use payment methods supported by Stripe.
Please contact us if you need help with your subscription or if you have any questions.
---
Gonnaorder Subscription Statuses
The subscription status is displayed to you in the subscription section. We have three subscription levels: 14-day free trial, Limited Freemium, and Active. Below is an explanation of what you get with each of these.
14-Day Free Trial
GonnaOrder gives every new customer a 14-day free trial- no credit card required. Your store will have all the functionalities of GonnaOrder during the trial period. Customers will be able to view your menu and place orders. You can receive unlimited orders and print order receipts. We invite you to buy a subscription before the expiry of the trial period.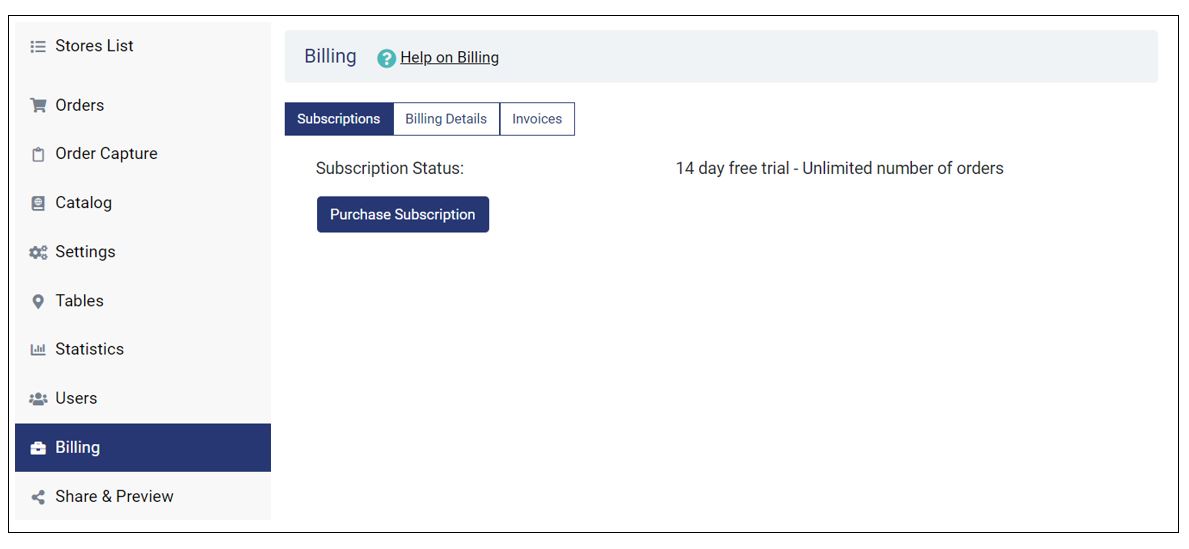 ---
Limited Freemium
Limited Freemium – 5 Orders per Month
GonnaOrder updates your store subscription to limited freemium on your subscription/free trial expiry. With this subscription status, customers can view your menu unlimited times, but your store can only receive 5 orders.
GonnaOrder keeps track of all orders in your store monthly and sends you a reminder email after the 4th order. Further, after receiving 5 orders, GonnaOrder will email you that ordering will be disabled for the rest of the month.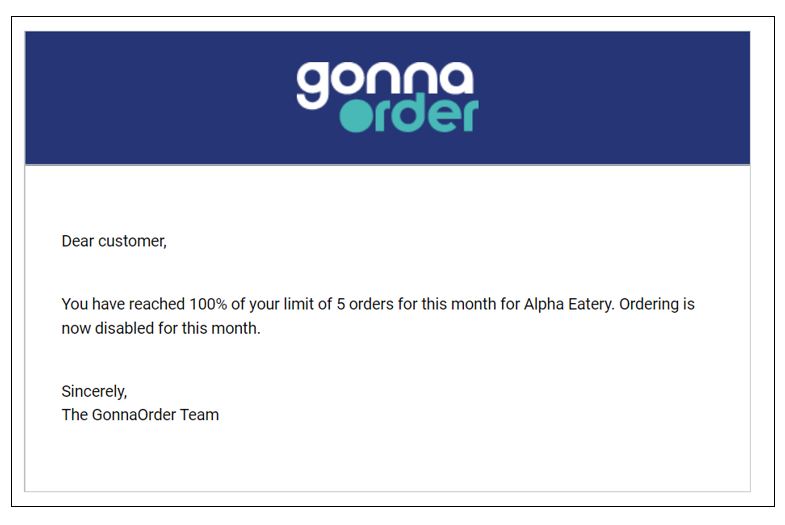 ---
Limited Freemium – Limit Reached
This is the subscription status for stores that have depleted the five-order quota. Ordering is disabled for the rest of the month or until you buy a subscription.
Customers cannot submit new orders to your store via GonnaOrder. However, your digital menu (website) and QR codes will remain active, and customers can view your menu unlimited times. Additionally, you can access unlimited information and customize your store settings and catalog.

---
Active & Active Recurring Subscription
After buying or extending a GonnaOrder subscription, your subscription status changes to either Active or Active recurring subscription depending on whether you have a one-time plan or a recurring subscription.
The subscription end date is automatically updated on the store dashboard. In case you have purchased a 1-year subscription, the new end date should be one year from the date of purchase. This is the date on or before which you should extend your subscription.


Tip
You cannot extend a recurring subscription since it is automatically renewed at the end of the billing period.
---
Purchase or Extend Your GonnaOrder Subscription
You can purchase a GonnaOrder subscription anytime if you have an account with us.
If you purchase a subscription before the end of your 14-day free trial, you will continue receiving unlimited orders per month even after your trial period expires. This means your subscription status will switch to active as soon as you subscribe.
For stores with the Limited Freemium subscription, purchasing a subscription removes the 5-order quota. Stores can receive unlimited orders after buying or extending a subscription.
Finally, stores with an active subscription can extend the end date through the billing section.
Complete the following steps to purchase or extend a subscription for your store:
Login to your GonnaOrder account
Select the appropriate store from the store list (only if you have two or more stores)
Go to Billing > Subscriptions from the store's menu
Click on the Purchase subscription button to bring up the subscription details page. Stores with an active subscription have the option to extend subscription instead.


Purchase or Extend a Subscription




On the subscription details page, enter your VAT Number and a discount voucher code if you have any.
Choose the appropriate subscription type for your store and continue to make payments. For a yearly subscription, you can save your credit card, so GonnaOrder can renew your subscription automatically.
Before you purchase a subscription, confirm the name and address of the store since these details will appear in your invoice.
That is it. You can now receive unlimited orders through your GonnaOrder store!
You cannot extend a recurring subscription
If you have a recurring yearly/monthly plan, you do not need to extend your subscription. GonnaOrder will automatically charge your payment method at the end of the billing cycle to keep your plan active.
---
Manage Your Billing Information
Your billing details will be available under Billing > Billing Details. You may update the information herein to ensure you comply with your region's or state's laws.
Your billing information includes the following:
Business name
VAT Number
Business Address
Why Store VAT Information Is Important
Your GonnaOrder subscription invoice contains the store VAT number.
The VAT is reverse charged for invoices within the EU. Therefore, stores in the European Union should add their VAT number before purchasing a subscription to avoid paying extra VAT charges.
GonnaOrder adds the store VAT number to the thermal receipt of each order processed in your store. This helps to make the store receipts acceptable for legal purposes.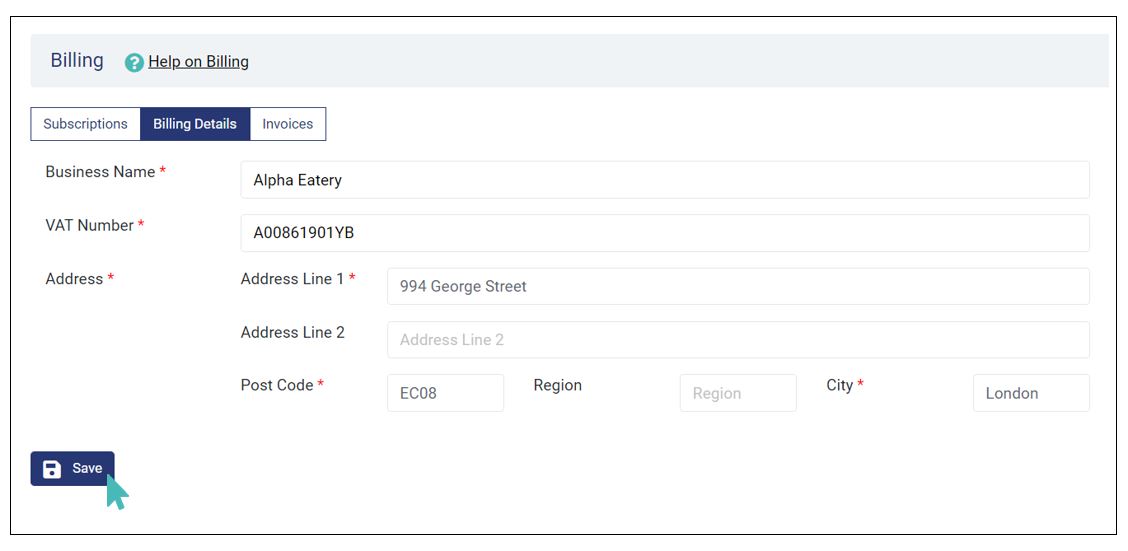 ---
Download Your Invoices
If you have purchased a subscription at least once, you will see your invoices listed under Billing > Invoices. You can click on any invoice to download it in pdf format. The invoice shows your billing information, the date and time of purchase, and the amount you paid for your subscription.

Do not hesitate to contact us if you have any questions regarding your subscription. We are always happy to help.