GonnaOrder allows you to receive notifications for incoming orders. Though the order dashboard of the GonnaOrder administrator application is refreshed periodically, it is also possible to receive notifications on your smartphone or desktop through the browser.
---
On This Page
---
---
Supported Browsers and Platforms
Before you enable notifications you need to make sure that your system supports push notifications. The list below indicates which platforms / operating systems support notifications. Unfortunately you cannot enable push notifications on iOS devices as iPhones or iPads. If you want to use this feature, see if you can find a device that supports push notifications
Windows – Supported
MacOS – Supported
Linux – Supported
Android – Supported
iOS – Supported via GoAdmin App

On top of the operating system you should check that your browser supports push notifications. Most of the modern browsers support push notifications. Ensure you have updated your browser to one of the latest versions.
Google Chrome – Supported
Firefox – Supported
Microsoft Edge – Supported
Opera – Supported
Safari – Supported

---
Enable Notifications
To receive notifications for incoming orders on your phone or desktop, select the notifications check box in the Orders section

Depending on your browser settings you may be asked to provide your permission to allow or block notifications.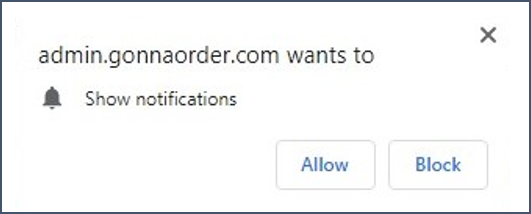 Keep GonnaOrder open in a dedicated browser window
Some browsers may not play the notification sound if the GonnaOrder tab loses focus on desktop. Keeping GonnaOrder open in a dedicated browser window solves the problem and ensures you do not miss any new orders.
---
View the browser Notification
Whenever an order arrives to the store, the device on which you have enabled notifications will show a notification message even when the browser is closed. N Below is an example of such a notification message for Google Chrome Desktop. The appearance of the message will depend on the platform. Notifications on mobile browsers are governed by device's notification settings. You may need to allow your mobile browser to show notifications.

---
Receive Notifications on the GoAdmin Mobile App
For people using mobile devices e.g. iPhone, iPad and Android phones, we have a mobile application that can help you stay on top of things with order notifications. The GoAdmin mobile app is a dedicated application that you can use to manage your store efficiently. Read more about GoAdmin mobile app.
Receive notifications on the GoAdmin App
---
Changing Notifications Settings
You can consult your browser's help manual to setup notifications for each website as well as the form of the notifications you want e.g. silent or with sound.
The sound of the notifications may not be as strong for your browser. You can change the sound to a more distinct sound of your choice. Use the below audio file as your GonnaOrder Notification bell
Download GonnaOrder Notification Bell sound
See other Order Notification settings
---