GonnaOrder gives you the flexibility to change some configuration settings for your catalog setup and display. You can find this in the Catalog section of the Settings of your store.
---
On This Page
---
View the Catalog Collapsed by Default
Navigate to the Settings section and then to the Catalog tab. Then you will find the setting to change the default catalog view to either expanded or collapsed.


The default option for the catalog default view setting is to be in an expanded view. This means that when the customers view your store menu, they will see all the menu items listed one after the other and they will scroll on their mobile phones to browse to the following category. This setting is optimal especially for smaller catalogs because it is very easy for the user to continuously scroll among the categories and browse what is available.

See an example of a catalog in expanded view
The alternative option is for catalog default view setting to be in a collapsed view. This means that the customers view a list of all their categories of items available. In order to view what items are available under each category, the users would need to click on the (+) sign to expand the category. This setting is optimal especially for stores that have very log catalogs. The advantage is that the user would first choose more quickly a category that is towards the end of the catalog without the need to browse through all items of the previous categories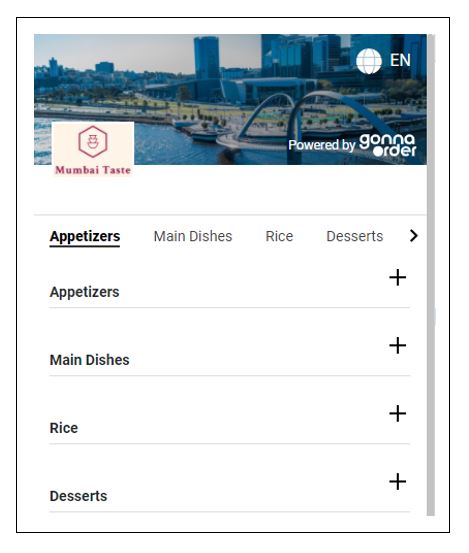 See an example of a catalog in collapsed view
To conclude, it is up to you to decide which view mode is best for your store. The general recommendation is to switch on the Collapsed mode for longer catalogs.