All payments belonging to the standalone mode are available to view, filter, and search under the standalone payments section of your store. This section shows a list of all orders submitted through open tap ordering and paid for through the standalone payment mode.
Note
GonnaOrder does not receive any payments for orders submitted to your store. All monies are paid directly to your payment provider and you can access your funds on the payment provider's dashboard.
---
On This Page
---
View All Standalone Payments
You can view all standalone payments by navigating to Standalone payments from the main menu of your store. Every table payment is listed alongside the table's name and order number. Other details are as follows:
Customer name: Name of the customer who submitted the order. This can be blank if the name field on the order page is optional and the customer left it blank.
Ordered: The value of all the items ordered by the customer.
Selected: The amount the customer chose to pay. It can be less or equal to the ordered amount.
Tip: The amount left for the waiter as a tip.
Paid: The total amount that the customer paid. A sum of the values in the Selected and Tip columns.
Payment time: The date and time when the customer paid for the order.
---
Filter Standalone Payments by Table Number
You can filter all payments from a particular table by selecting the table number from the location dropdown filter. When a table or location name is selected, GonnaOrder displays all orders submitted to the given table during the current day. No items are displayed if the last order for the given table was submitted the previous day or before.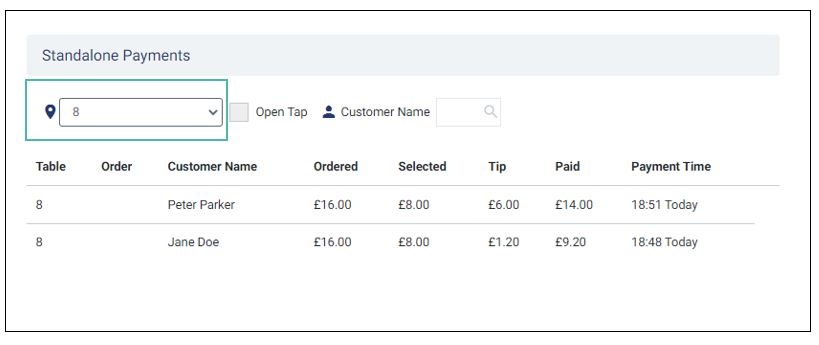 You can also combine the table number with the Open Tap filter to only show orders submitted to the last open tap for the given table.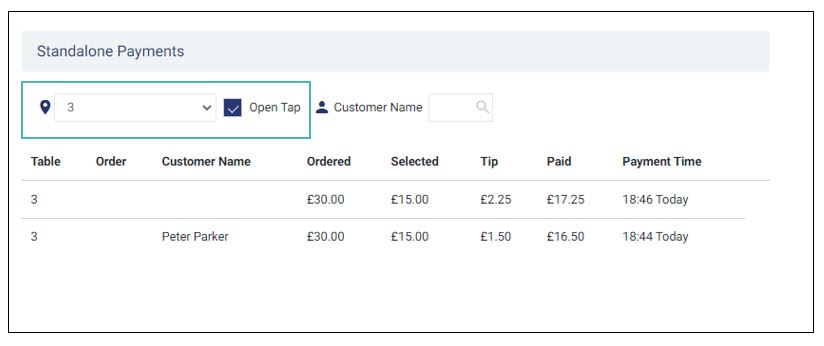 ---
Search Standalone Payments by Customer Name
You can search for a payment using the customer's name. The search feature allows you to enter a part of the customer's name and progressively updates the results with every additional character typed. Additionally, the search displays all instances where a customer's name matches the supplied string. Therefore, you can use a full name, part of a guest's name, or even a few letters of their name.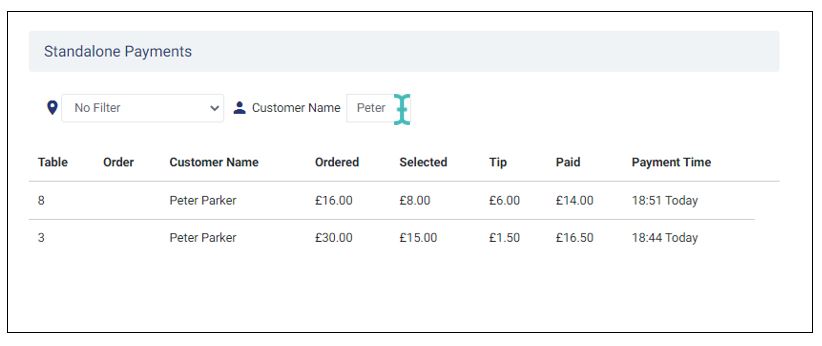 ---
View Standalone Payments in a Multi-catalog Setup
In a multi-catalog and multi-store setup, the parent store displays standalone payments made in all the individual child stores. Therefore, you can view standalone payments for all your connected stores on the same dashboard.