With GonnaOrder, you can change or update your domain settings to update your GonnaOrder domain or setup a custom domain to use with your store. A GonnaOrder domain is the easiest way to get your store up and running without incurring additional costs. On the other hand, a custom domain allows you to own and promote your brand to customers.
You can contact GonnaOrder support team to help you with domain configuration or if you have any questions.
---
On This Page
---
Change or Update Your GonnaOrder Domain
Every GonnaOrder store is associated with and accessible on the internet via a GonnaOrder domain. You choose your preferred domain when you initially create the store.
You can change the alias and GonnaOrder domain for any store regardless of whether you have an active subscription or not. However, it is important for you to know that precedence is given to stores that have an active subscription at the time of the domain change.
Therefore, a store with a paid subscription can claim a domain that is already in use by a store that is in free trial mode or whose subscription has expired. If two stores are in free mode and one tried to claim the domain of the other, they would need a paid subscription.
Any store, with paid subscription or without, can change to a domain that has not been used by another store.
If a store's domain is claimed by another, its alias will be indexed with a number. Hence if your store had restaurant.gonnaorder.com as the domain and which has been claimed by another store, your new store alias will be restaurant1 and the domain will hence be restaurant1.gonnaorder.com.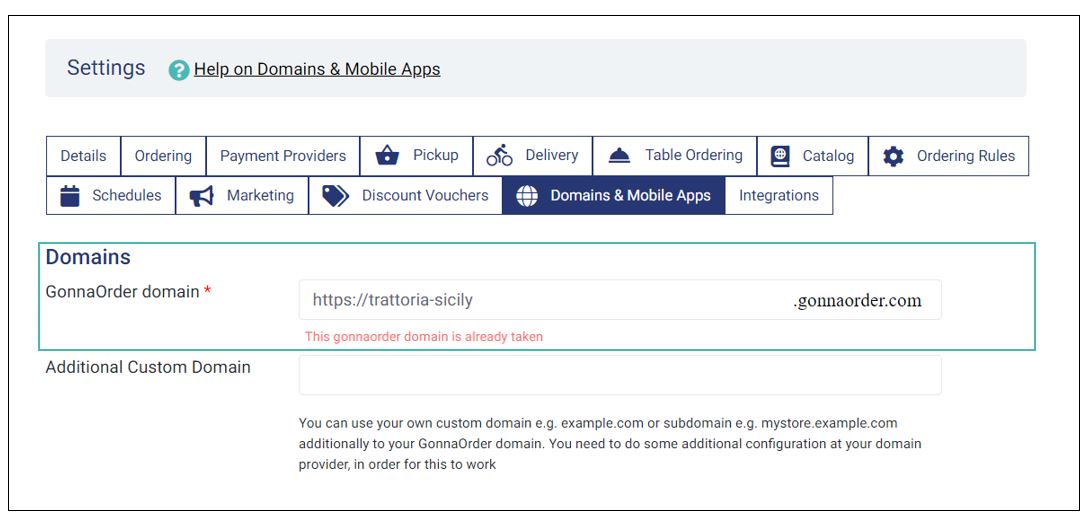 Tip
You should always ensure that your customers know the correct URL for your store. Therefore, it is good for you to plan and communicate about the change in store URL to avoid inconveniencing your customers.
Ensure you always have an active subscription to avoid losing your GonnaOrder domain.
---
Purchasing a Third-Party Domain
Even though you can use GonnaOrder without ever purchasing a domain, it is also possible to link your GonnaOrder store to an external domain or subdomain. This means you can have customers visiting and placing orders to your GonnaOrder store via a custom link. For instance, if your store name was Sandwich Land, you may want to have customers visiting a domain like www.sandwich-land.com instead of www.sandwichland.gonnaorder.com to place orders.
However, you should first buy a domain from a domain seller to make this possible. There are various domain sellers on the internet today and a quick search may provide you with names like GoDaddy, Bluehost, Siteground, or Namecheap, to mention but a few.
Depending on your seller, you may be provided with alternatives for the domain you searched for and the purchase options. You may want to compare the price and any add-ons provided alongside the domain by the various sellers and pick what works for you.
You can also choose to create a subdomain to use with GonnaOrder if you already have an existing domain.
---
Differences Between a Domain and a Subdomain
A domain, or root domain is what you buy from a domain provider. It is like a warehouse on the internet where you store your website. For example, sandwich-land.com is a root domain.
A subdomain is a subsection of the root domain. Subdomains are configured after you have purchased the root domain. They can be termed as different sections of the same warehouse. order.sandwichland.com is a good example of a subdomain.
It is possible to have two or more completely different websites on the same domain by configuring one or more subdomains.
Tip
If you do not have a website and GonnaOrder is the main website for your store, then you may configure the root domain of the domain you purchased to point to GonnaOrder. Otherwise, you may configure a subdomain so that you can retain your website and still have your store.
---
Set up a Custom Domain in Your GonnaOrder Store
Connecting a custom link to your GonnaOrder store is a two-step process. First, you should inform GonnaOrder which custom URL will be pointing at your store. The second step is for you to tell the domain to fetch data from your store and display it to customers.
It is easy to connect and use custom domains with your GonnaOrder store. To do this, log in to your GonnaOrder administration dashboard and choose Settings from the side menu. Under settings, click on the Domain & Apps option.
There are two options for using custom domains with GonnaOrder:
Using the top-level domain: In this case, you set your main website URL to point to your GonnaOrder store. With this setting, customers visit your store to view the menu and place orders.

Adding Your Top-Level Domain to GonnaOrder




Using a subdomain on your website: With this option, you configure a subdomain on your website to point to your GonnaOrder store. This allows you to keep using your main website URL for other purposes.

Adding a Subdomain of Your Website to GonnaOrder



In addition to adding your domain to GonnaOrder, you also should change your DNS settings on the domain provider's administration panel so the domain points to your GonnaOrder store. See the next section.
---
Set Up Your Domain To Point To Your GonnaOrder Store
For the store and custom domain configuration to work, you should set the domain or subdomain to fetch your store from GonnaOrder rather than point to the domain provider's servers.
Note
Different domain providers have different labels for the fields described in this section. You may call or email your your domain provider to assist you with the configuration and ensure you do not mess up.
To update your domain settings, Login to your domain providers administration panel with the credentials sent to you when you purchased the domain. Find the menu item labeled Domains and then click on DNS settings or similar. Choose the domain you wish to use with GonnaOrder and proceed as instructed in the next section.
---
Update Your DNS Records Based on Whether You Are Using a Top-Level Domain or a Subdomain
You can either use your GonnaOrder store with your top-level domain or a subdomain. Each of these options works in the same way but may be applicable to you in different scenarios. For example, we recommend you use your top-level domain only if you do not intend to publish a website on the said domain. Otherwise, you should a subdomain if you have a website or plan to publish a website on the domain.
There are no functional advantages to using the main domain or subdomain. Your store will be displayed to your customers in the same manner regardless of the configuration you choose.
Using Your Top-Level Domain
To use your top-level domain with GonnaOrder, enter your domain URL e.g. sandwich-land.com in Name field and then enter GonnaOrder's IP address which is 51.89.64.82 in the Record, Points to, or IP Address field.
With this configuration, customers will be able to view your GonnaOrder store on your top-level domain.
Setting A Records for Your Top-Level Domain To Point To GonnaOrder
Name/Host/Alias
TTL (Time To Live)
Record Type
Record/ IP Address
sandwich-land.com
3600
A
51.89.64.82
Using a Subdomain on Your Website
Using a subdomain on your website allows you to maintain a completely functional website that serves your business purpose alongside an online ordering platform that allows you to promote your store and receive orders.
For example, if sandwich-land.com was your domain and you are already using it for your business, then you may create and configure a subdomain to use for ordering. In that case, the subdomain order.sandwich-land.com maybe a good fit. With this configuration, your customers will visit the subdomain to view your menu and place orders.
Tip
We recommend that you configure a subdomain if you already have a website on the root domain, or if you are planning to use the root domain for another purpose.
To use a subdomain of your website with GonnaOrder, you must configure the A records to point to the GonnaOrder servers. You should add a new A record of type @, supply the respective subdomain that you would like to use with GonnaOrder in the Name field and lastly add 51.89.64.82 in the IP address field.
Setting A records for subdomain to point to GonnaOrder
| Name/Host/Alias | TTL (Time To Live) | Record Type | Record/ IP Address |
| --- | --- | --- | --- |
| order.sandwich-land.com | 3600 | A | 51.89.64.82 |
---
Getting Help With Third-Party Domain Configuration
If you cannot find the Domains management settings, or you have trouble updating the DNS records, you may want to contact the third-party domain provider for assistance.
Inform the domain provider that you would like to have your domain pointing at GonnaOrder's IP address which is 51.89.64.82. The CNAME records should not be changed, but you may ask your provider if the change will affect your emails and if so request them to set up the MX records of your domain accordingly.
Alternatively, you may contact the GonnaOrder support team and we will be glad to assist you where possible.
---
Purchase a Web Security Certificate
A web security certificate, commonly referred to as SSL certificate, protects data on your website. The presence of a valid security certificate on your website reassures your customers that your website is safe to use and they should not be afraid when making payments or submitting information.
Your GonnaOrder store should be safe to use and you should, therefore, purchase an SSL certificate.
Notable SSL certificate vendors include comodo.com, geocerts.com, namecheap, and ssls.com.
Once done, send your SSL certificate to support@gonnaorder.com so we can finalize your custom domain settings. We will notify you via email once the certificate is successfully installed for your GonnaOrder store.