Powersoft POS is popular with people doing business in Cyprus. We have added a Powersoft integration in GonnaOrder to make it easy for you to synchronize orders received online to your POS. After connecting your GonnaOrder store to Powersoft, you can view new orders in both Powersoft and your GonnaOrder dashboard.
Powersoft is only available to stores located in Cyprus. If you are looking to connect to another POS, you can do so through our HubRise integration. See the POS apps supported by HubRise here.

---
On This Page
---
How the Powersoft integration works
The primary need for having a Powersoft integration is to help businesses manage orders in a better way. If you are already using Powersoft as a POS in your physical store outlet, connecting it to your GonnaOrder store will allow you to view all orders on the POS.
Without this integration, you would need to view orders placed via your POS and those places through your GonnaOrder store separately. Adding the integration means GonnaOrder can send all new orders to your Powersoft POS.
A customer places an order in your GonnaOrder store. The order is forwarded to your POS and you can view and fulfill the order in your POS like you would accept and fulfill orders in GonnaOrder.
You must follow these three steps to achieve this flow of orders between GonnaOrder and your Powersoft POS.
Connect GonnaOrder to your Powersoft POS through the integrations section.
Add product-level details to help with order synchronization. These are external product ID, item VAT, and external VAT ID. See the Powersoft settings to learn more.
If the above two steps are done successfully, all orders placed in your GonnaOrder store will be visible in your POS, and you can fulfill them conveniently.
---
Connect your Powersoft POS
Connecting your store to Powersoft POS allows you to manage orders from a central location. It can help streamline the operations of your store. To connect your store to Powersoft POS, navigate to Settings >Integrations and locate the Powersoft section. Click on Connect to Powersoft and proceed to fill in the required details.

You will need the details below to connect your store to Powersoft POS:
Access Token: This field should be provided to you by the Powersoft team. Therefore, you should contact Powersoft to request the access token.
Agent code: This is a code that you create in your Powersoft dashboard to indicate GonnaOrder as the source of orders. The agent code is especially useful if you have other order sources.
Customer code: This customer code should be created in Powersoft to indicate a GonnaOrder customer.
Email address: A general email for all customer orders.
Store code: This store code should be created in Powersoft to indicate a Powersoft store code.
Station code: This station code should be created in Powersoft to indicate a Powersoft station code.
You can contact the Powersoft365 team to provide you with an access token and guide you on how to create the required integration codes.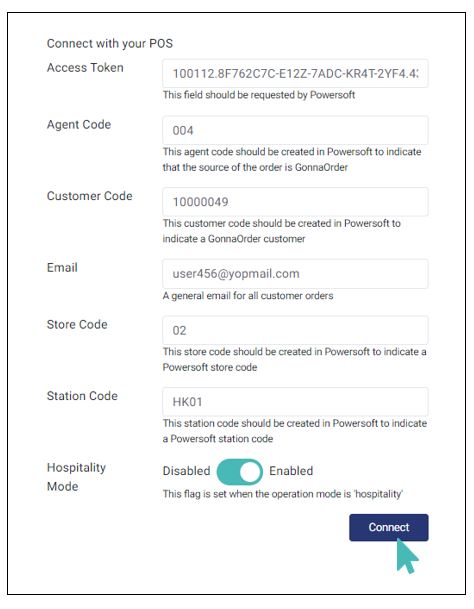 Upon successful connection, your Powersoft integration details will appear where the integration form was. The access token, agent, customer, email address, store, and station code are all displayed in read-only mode.
In addition, you can enable or disable the Hospitality mode. Disabling the hospitality mode automatically switches you to the E-shop mode. The hospitality mode is turned on by default.

---
Special settings used with Powersoft POS
External ID for products, price variants, and child options
The external ID field will be available when you edit the details of the main store product, a price variant, or an option that belongs to an option group.
The field can be filled with a string of characters to match the item SKU used in your POS. External ID fields help GonnaOrder to point directly to the items that customers order online in your POS.
---
Item VAT %
The VAT field is available on the item details page when updating an item and only when the general store VAT is set. Price variants and child options inherit the VAT set for the associated main store product.
If the VAT level for the main store item is not set, then it inherits the VAT set for the store, and the same is passed down to price variants and child options. Read more on store and item VAT.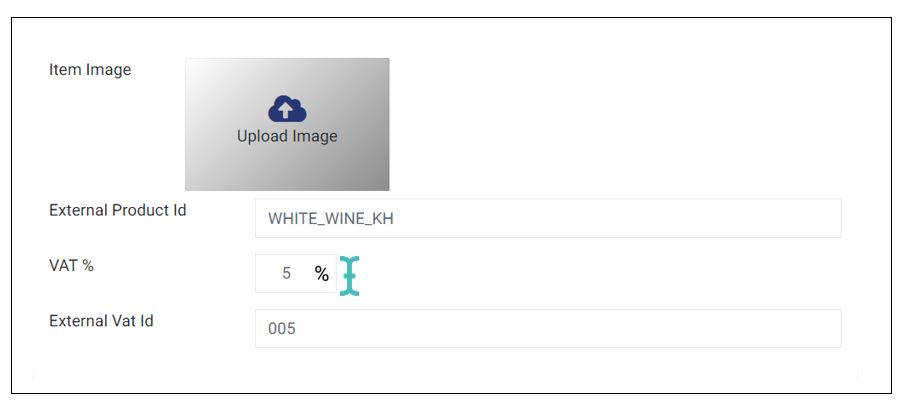 ---
External VAT ID
The external VAT ID identifies the VAT set for items in your GonnaOrder store. This helps your POS to calculate the VAT for each item and the total VAT for an order received from GonnaOrder.
The External VAT ID is only required for main store products. Like with the VAT field, price variants and child options inherit the external VAT ID of the associated parent item.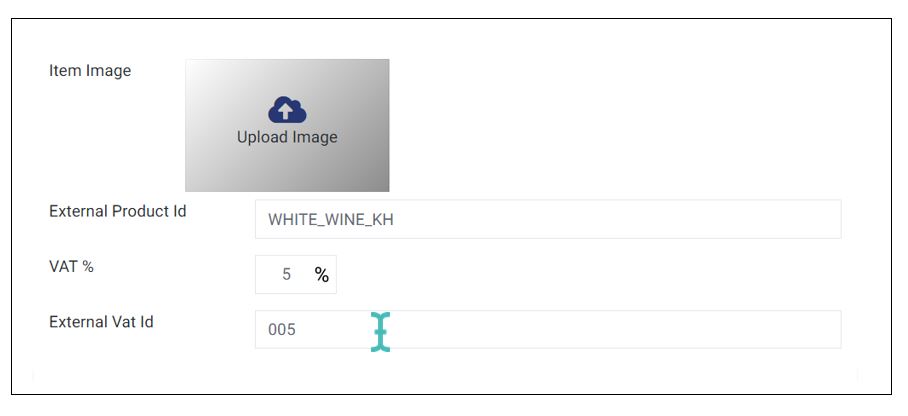 ---
External table ID
The external table ID field is to be used for stores that use Powersoft POS with standalone payments. The ID helps both GonnaOrder and the POS to know from which table an order was submitted, facilitating customer payments. You can add a table external ID when updating the details of a table in your GonnaOrder store.

Tip
You can now update the external product ID, VAT %, external VAT ID, and external table ID via excel. See how to update your catalog via excel.
---
Receive standalone payments
You can use Powersoft POS to manage open tables and receive standalone payments. The waiter opens a table in the POS and continues to take orders for the guests. The customers may also submit one or more orders through your GonnaOrder store. They can then pay for all their orders by scanning the table QR code.
Standalone payments also enable customers to split bills and tip the waiters.
You can enable standalone payments and select Powersoft as the standalone payment source under Settings >Table ordering.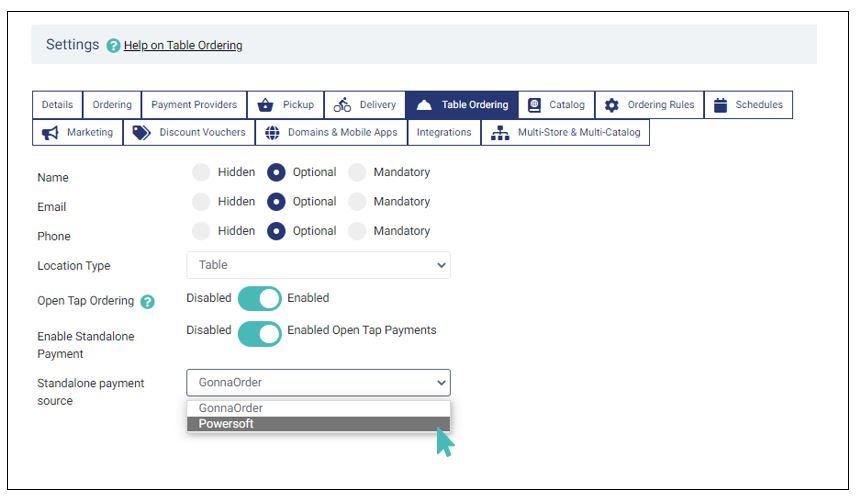 ---
Disconnect Powersoft POS
You can always disconnect GonnaOrder from your Powersoft POS if and when you no longer need GonnaOrder to send new orders to your POS. In that case, you should have a way of managing orders arriving in your store.
To disconnect GonnaOrder from Powersoft POS, click on the Disconnect button available under the Powersoft integration section. This will permanently disconnect your two accounts, and GonnaOrder will no longer send orders to your Powersoft POS.