GonnaOrder allows you to configure multiple payment methods with multiple payment providers. You have the liberty to choose the payment providers and methods best suited for your store. It is important to know that all payments are made through third party providers and GonnaOrder does not have access to your accounts. Additionally, notice that some third party payment providers charge a commission for every payment made to your account. Every payment provider has different transaction fees and which will be covered by the store. Be sure to find out the transaction fees charges by a payments provider before adding them as a payment option for your store.
---
On This Page
---
Supported Payment Providers and Methods
Stripe


Website: www.stripe.com
Supported payment methods:


Stripe is currently the only payment provider that supports digital wallets like Google Pay, Apple Pay and Microsoft Pay Use Stripe as payment methods.
---
RMS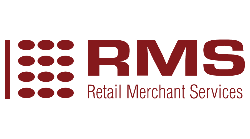 Website: www.retailmerchantservices.co.uk
Supported payment methods:



Use RMS as Payment Provider
---
Paymentsense

Website: www.paymentsense.com
Supported payment methods:


Use Paymentsense as Payment Provider
---
Square


Website: www.squareup.com
Payment methods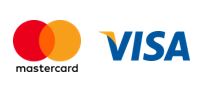 Use Square as Payment Provider
---
JCC Payments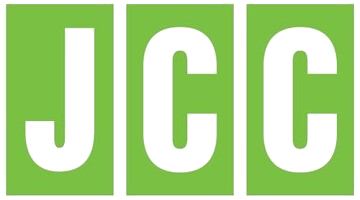 Website: www.jcc.com.cy/
Supported payment methods:
JCC supports payments via all major credit cards.


---
Viva Wallet


Website: www.vivawallet.com/
Payment methods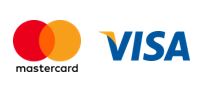 Use Viva Wallet as Payment Provider
---
Paypal.me
Available as option to pay after having placed an order
Website: https://www.paypal.com/paypalme/



Receive payments with Paypal.me
---
How do Payments with Payment Provider Work?
To enable payments in your GonnaOrder store, you would need to have an account with at least one payment provider. Therefore, have to register with the payment provider first.
After registering, you can link your GonnaOrder account with that of your preferred payment provider. Hence, GonnaOrder will know your payment provider details and will redirect customers to pay to your account. GonnaOrder facilitates the payment process in the platform with the payment provider. However, you receive payments independently without GonnaOrder taking any commissions. Payments go from your customer to the payment provider and not to GonnaOrder. This means that you can access your money at any time by logging into the payment provider at any time or the payment provider will issue payouts to your bank account based on their terms and conditions or as you may set in your account dashboard.
Even though GonnaOrder does not take any commissions in the payment process, your payment provider may charge you a commission for every transaction.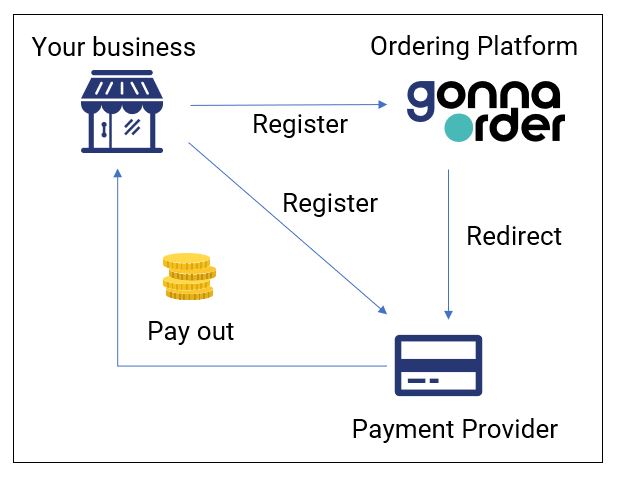 ---
Use Stripe as Payment Provider
Stripe is an internationally recognized payment provider. It is used by thousands of e-commerce outlets around the globe. Connecting your GonnaOrder account will allow your customers to pay by credit card and digital wallets.
To add Stripe as a Payment Provider to your store, go to Settings > Payment Providers.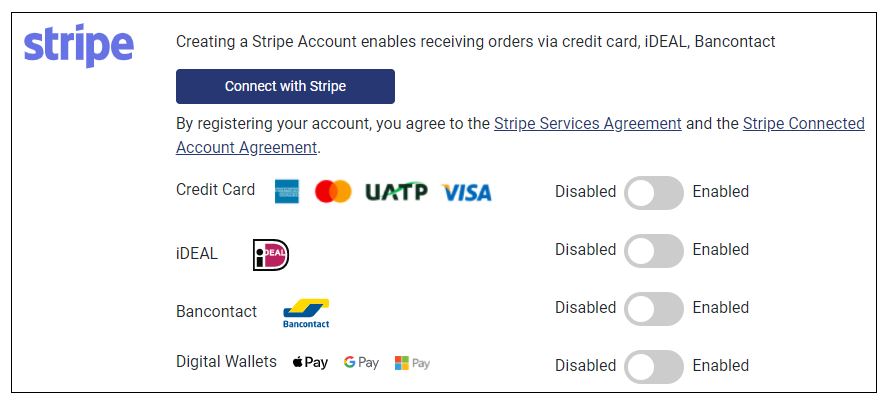 Once you click the Connect with Stripe button, you will be redirected to the Stripe where you can login or register a new account. In a nutshell, you would need to follow the instructions on the Stripe page and fill in the necessary information to facilitate the GonnaOrder-Stripe connection. Once you fill-up the details, click on Authorize access to this account.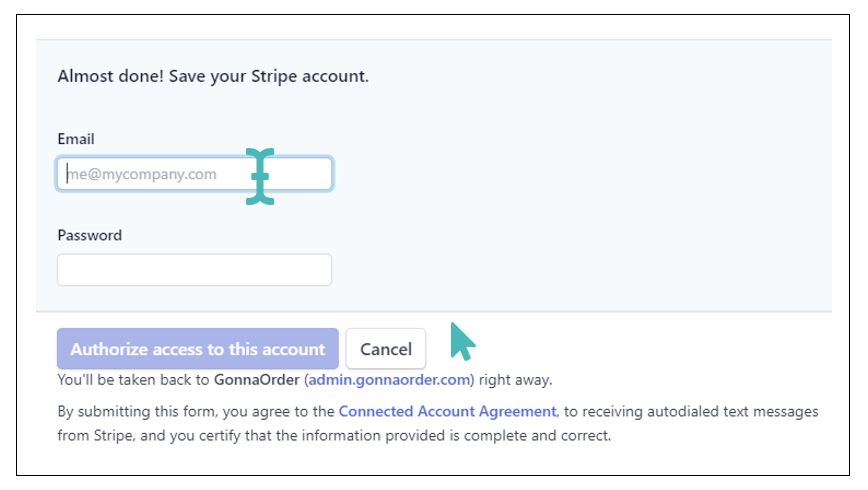 After connecting your Stripe account, you can enable online payments for orders placed in your store. Stripe supports various payment methods and you can choose which ones to activate or disable for your GonnaOrder payments. Notice that some payment methods supported by Stripe are only available in selected countries e.g. iDeal (Netherlands), and Bancontact (Belgium).
Disabled payment methods will not be displayed to your customers.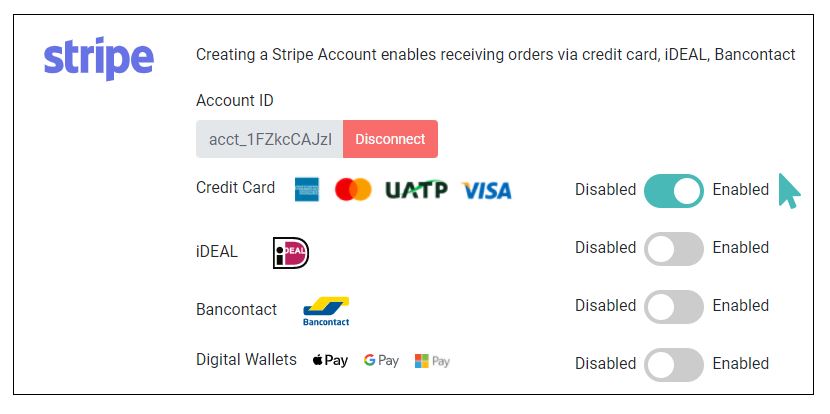 ---
Use RMS as Payment Provider
RMS is a payments provider that supports card payments in over 140+ currencies. Additionally, RMS allows customers to pay via Google pay and apple which are popular digital wallets. RMS supports online payments and physical card-swipe machines. Therefore, it is an all-round payment solution for businesses.
To start receiving payments via RMS, you would need to provide three things:
RMS merchant ID
Shared Secret
Account ID
These you fill in under the payment providers section under store settings. These details can be obtained from your RMS account.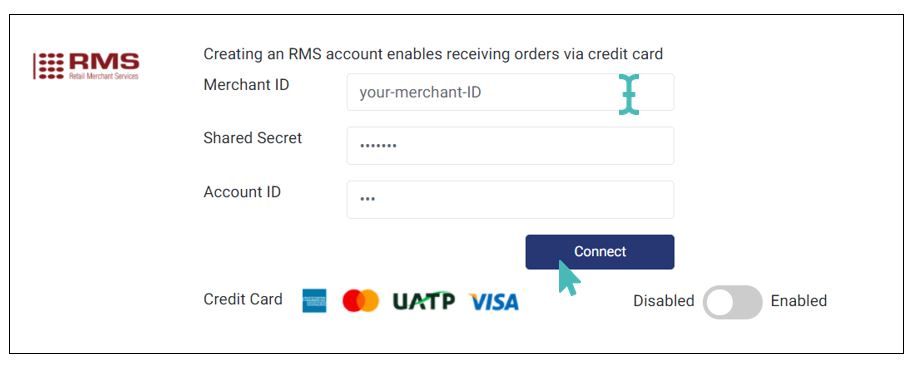 After successfully connecting to your RMS account, you can enable payments. RMS will be used as your preferred payment provider and customers will pay directly to your account. You can disable RMS payments at any time but it is advisable that you have an alternative payment option in that case. Additionally, you can also disconnect your GonnaOrder store from your RMS payments account at will. Disconnecting your RMS account will permanently delete your RMS account details from GonnaOrder.

---
Use Paymentsense as Payment Provider
Paymentsense is a third party payment provider mainly operating in the United Kingdom (UK). Therefore, it may not be an option for stores that are located outside of the UK and you are advised to look for other options from those listed on this page.
Paymentsense supports payments made through credit cards and digital wallets. Other than Visa, Mastercard and American Express, you can also receive payments done via credit and debit cards issued by providers like Discover, Maestro, and Diners club international.
To start receiving payments via Paymentsense, you will need to provide GonnaOrder with three pieces of data:
Username
Account password
JWT token
The JWT token is a long string of characters that is available in your Paymentsense account and which you only need to copy.
Fill the details in the respective fields on the payment providers settings and click Connect.

After linking your accounts successfully, you can enable credit card payments to be done via Paymentsense. Such payments as completed via Paymentsense will not appear in your GonnaOrder account.
You can enable or disable credit card payments at any time. Additionally, you can disconnect GonnaOrder from Paymentsense at any time. For the two cases, we recommend that you have an alternative payment provider configured or you can disable payments altogether.

---
Use Square as Payment Provider
Square is a credit card processing payment provider that you can add to your store easily. Unlike Stripe, Square does not digital wallet payments. Still it is a valuable for processing all types of credit card payments.
You will need to provide your Square application id, access token, and location ID to enable Square payments in your store. To obtain these details, you will need to login to your Square developer account and create an app. Open the new application and from the side menu choose Credentials. You can also use the credentials of an existing app you already have one.
On the credentials page, you have the option to use Sandbox version of the credentials or use Production credentials. Sandbox credentials are used for testing your application before you start receiving actual payments. You will have to copy the production credentials to use with GonnaOrder.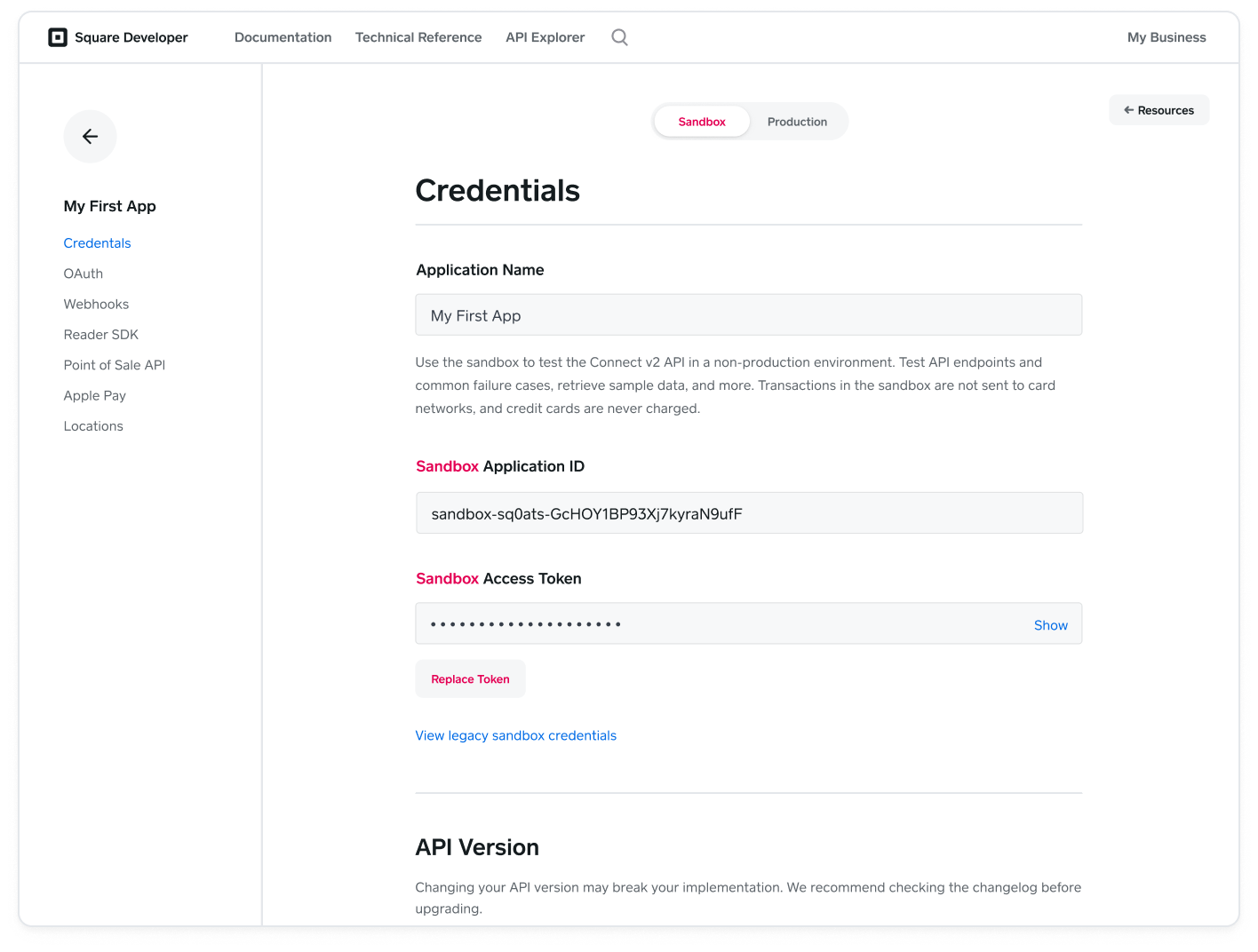 The location ID does not appear on the same page with the application ID and access token. It refers to the business outlet that will use the credentials to process payments and can be looked up in your Square account under Dashboard > locations.
Once you add these settings you can enable credit card payments via Square. For more information about how to find these keys please read Square's API Access Tokens documentation and also see their Payment Form Walkthrough.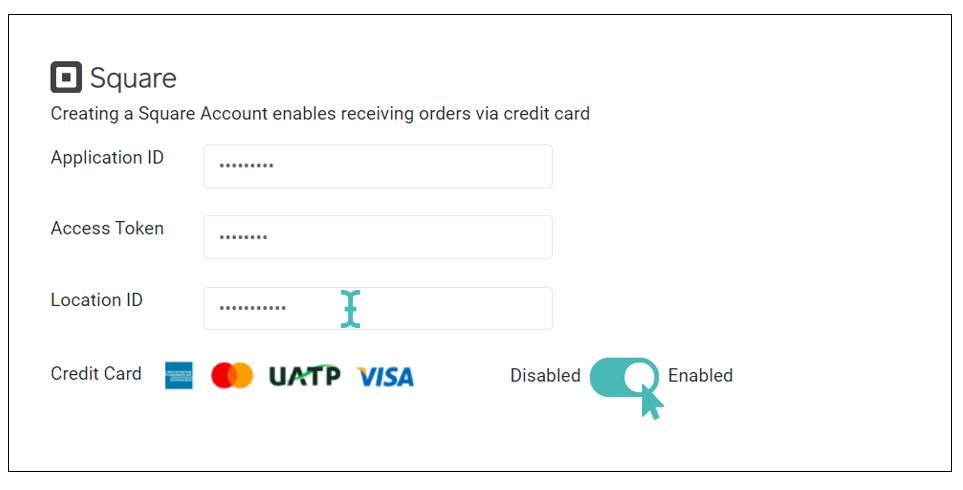 ---
Use JCC as a payments provider
JCC allows you to receive credit card payments in your GonnaOrder store. It is mainly an option for stores located in Cyprus.
To receive credit card payments via JCC, you need to have a JCC merchant account. You can apply to become a merchant through the JCC website after which you will be provided with the requisite information required to start receiving payments.
With a JCC merchant account, go to your store settings and choose payment providers and fill in the required details as highlighted below.
Merchant ID
Acquirer ID
Api Signature Password
These details are provided to you via email when you register a JCC merchant account. They will also be available in your JCC merchant account dashboard and you can look them up at any time.
After providing the integration details, click on the Connect button to finish. Payments will be automatically enabled for JCC and you are set to go.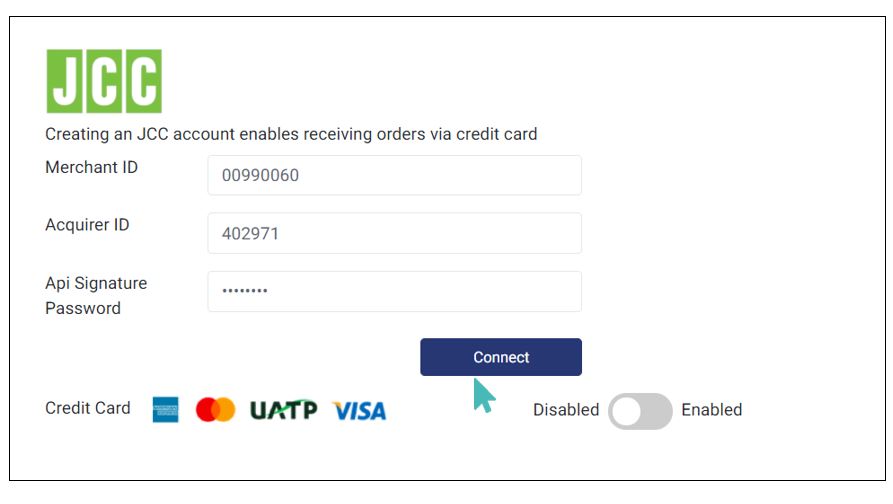 If in any case you want to pause JCC payments and instead use other payment providers, you can always toggle the payments switch to Disabled.

It is also possible for you to disconnect your store from JCC payments altogether. Notice that disabling or disconnecting JCC payments may require you to enable another payment method to continue processing order payments.
---
Use Viva Wallet as Payment Provider
Viva Wallet as a payment provider is more similar to Square in that it only facilitates payments made through credit cards. To enable Viva Wallet payments, you will need to input your client id, and client secret which can be found in account dashboard under settings -> api access -> Native Checkout v2 Credentials. Once you add these settings you can then toggle the credit card payments button to yes. All payments made to your store via this provider will be available under your Viva Wallet account dashboard.

Log in to your Viva Wallet account dashboard and go to Settings > API Access.