GonnaOrder enables you to create custom payment requests and share them with your customers. This is especially useful in cases where the customer has not paid for their order and they are ready to leave. A waiter can create and share a custom payment request with the customer in that event. Such a payment is neither associated with an open table tab nor any particular order.
You can create payment requests for the table service, pickup, or delivery orders. Each request must have the amount that the customer is to pay. GonnaOrder generates a custom QR code and payment link specific to the amount requested.
The customer can scan the QR code, or the waiter can send the payment link to the customer so they can open it on their smartphone.
---
On This Page
---
How To Use Payment Links and QR Codes
Enabling customers to pay custom amounts- not tied to the value of any order can be a game changer in improving efficiency in your store. There are two key cases where your custom amount payments will be invaluable:
Waiters and cashiers can easily create a custom amount payment request when a customer is about to leave. If, in any case, a waiter or cashier cannot find the customer's order, they can always share a custom payment request with the guest. The waiter can share the payment link with the customer in a message or email or hold out their phone to allow the guest to scan the payment QR code.
Delivery drivers can carry a pre-printed payment QR code for the order they are about to deliver. They may also generate the payment QR code on their phones and allow the guest to scan and pay. With this, your delivery driver does not need to carry a terminal or have to deal with cash payments.

---
Create a Payment Request
A payment request consists of a unique QR code and link that specify the amount the receiver is required to pay. Payment requests are not directly linked to orders received in your store. They, therefore, offer a flexible way of receiving payments.
To create a payment request, go to your store dashboard and select Standalone Payments from the menu. Enter the amount you would like the customer to pay and click Create Payment Request.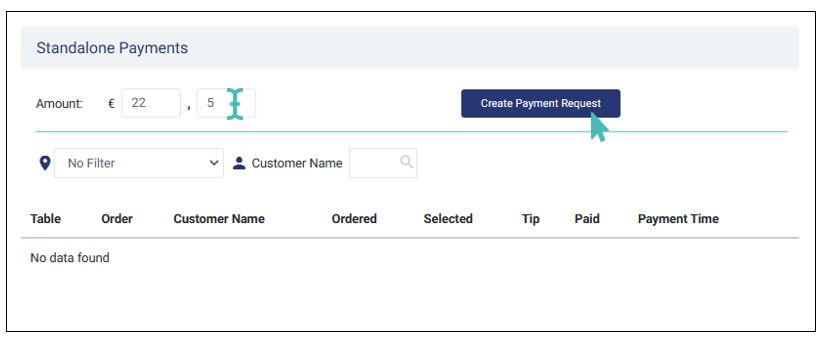 GonnaOrder generates a payment link and a QR code for the payment request. You can copy the payment link and share it with the customer in a message or let the customer scan the QR code on your device. Alternatively, you can print the QR code and give the guest to scan.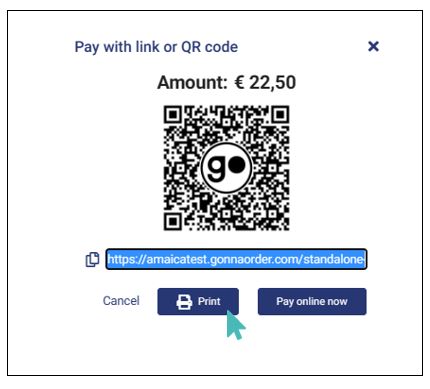 It is also possible for you to take the payment by tapping the Pay online now button, provided the customer agrees to give you their payment information.
Create Payment Requests for Specific Orders
You can create a payment request for a specific order. Such payment links and QR codes take your customer through GonnaOrder's standalone payment process, where they can split the bill or leave tips for the waiter. Learn how to create a standalone payment link for specific orders.
---
How Customers Pay Custom Amounts via Link or Qr Code
Payment requests for custom amounts follow GonnaOrder's standalone payment flow, where a customer can pay the bill in full, split it with friends, and leave a tip for the waiter. The only exception in the process is that a custom amount payment request is not associated with any specific order or table. This means there's no order summary for the payment. You can use custom amount payment requests for table service, home/office delivery, and pickup orders.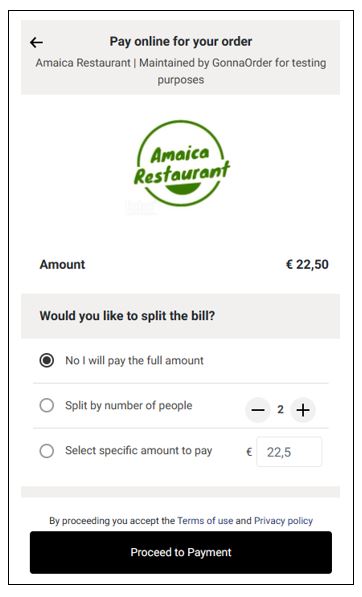 ---
View Customer Payments
Custom amount payments are not associated with any order or table. Therefore, they do not have table or order references on the Standalone payments dashboard. You can identify a custom amount payment through one or a combination of these criteria:
Both the table number and order ID are not listed
Search for the customer name if it was provided
Note the amount paid and time and use the combination to identify the payment