Trust Payments is a versatile payments solution that you can add to your GonnaOrder store. Trust Payments allows customers to pay with their credit cards or PayPal accounts. It is excellent if you want to give your customers choice and flexibility.
| | |
| --- | --- |
| Website | www.trustpayments.com |
| Supported Payment methods | Credit and debit cards, PayPal |
| Available countries | Ireland, United Kingdom |
| Payment provider logo | |
---
On This Page
---
Connect to Trust Payments
To add Trust Payments as your payments provider, you need to have Trust account that you can then use use to Sign in MyST. You can get a Trust Payments accounts by contacting the Trust Payments team via email and explaining your type of business and that you want to receive payments on your online ordering store. Using your GonnaOrder store with an existing Trust Payments account is also possible.
Add the following details in your GonnaOrder store payment settings to connect Trust Payments.
Live site reference
Webservice user
Webservice password
The Trust Payments team provides these details to every newly registered user. You may also want to check the Trust Payments help center to learn how to manage site details.
Remember to click the Connect button after adding your details to ensure you can start receiving payments immediately.

After successfully adding Trust payments to your store, you will be able to Enable or Disable your payment account. When enabled, Trust payments will facilitate order payments made by customers. Be sure to configure another payment provider before disabling Trust payments.

---
Trust Payments Interface
Upon clicking theproceed to payment button on the order page, GonnaOrder will redirect customers to the Trust Payments page, where they can choose their payment method and pay for the order. The Trust Payments page also shows the amount of the order, the order reference, and the name of your business. The payments page is hosted and maintained by Trust Payments. It opens as a redirect, meaning customers make payments outside GonnaOrder and are redirected back to the order page in your store after successfully paying.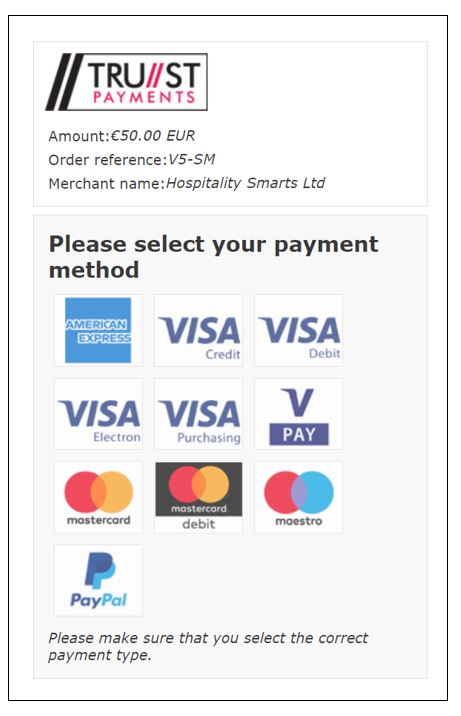 ---
Disconnect Trust Payments From Your GonnaOrder Store
GonnaOrder allows you to disconnect Trust Payments from your store. This you can do by clicking on the Disconnect button under the Trust payments section. You should set up another payment provider or method before this operation if you want to continue receiving order payments.