Other than in-house tables within the business premises, some stores e.g. hotels, night clubs, and bars may have rooms from which customers may order food. In addition to rooms, you may also have office blocks, a hospital to which you deliver food and other items. In that case you will need to set up rooms and locations. This makes it easier for people in the rooms and at the locations to place orders conveniently. Further, with different location/table types, there is need to specify your store's default location type.
---
On This Page
---
Set default location type
The default location type refers to the main table type that will be used for your store. This is important when you create new tables or set up rooms and locations for your store. For this field, you can choose between the three available options as described below.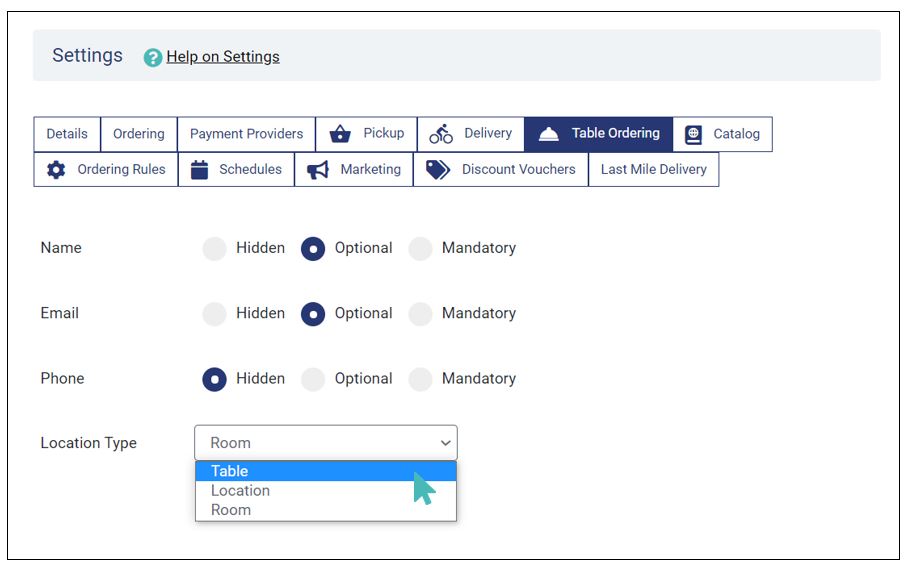 Table: This location type is useful for restaurants that offer table service. These are usually the tables to which you will attach the QR code menu and from which customers will be placing orders. They are tables or areas that are accessible from within your premises. A table can have a table number or table name and will be associated with a unique URL after it is created.


Customer interface requesting table info




Location: The location option takes care of areas, buildings and premises to which you can serve or deliver orders. This is applicable if, for instance, there are certain offices and residential areas to which you deliver or serve orders. You may opt to have QR codes assigned to these areas, offices and buildings for convenience.


Customer interface requesting location info



---
Set up rooms and locations
When a room or a location is important to your hospitality business, you take care of it as if it were within your premises. That is why you would want to make it easy for people to place orders on your store from these locations. Setting up a room or location in GonnaOrder allows you to know where an order is coming from for easy service or delivery. Store attendants will see the location of the order alongside the offers selected by the customer.
To set up a room or location, choose Tables from the store side menu and click on Add Table.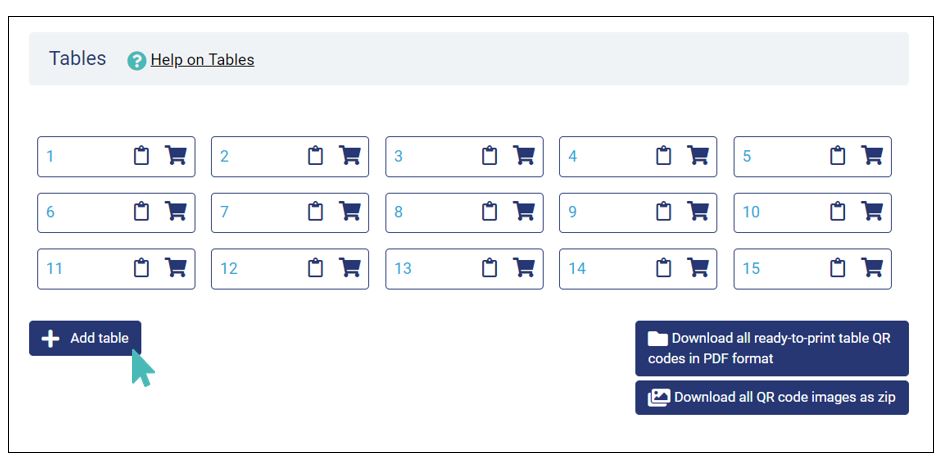 The next screen will require you to enter identifying information for the location you want to add. Specifically, you must enter a table number or name and optionally add a description and a comment. Even though the location description and comments are optional, we encourage you to use the location address in the description field and put a meaningful comment. GonnaOrder will display the location description to the customer on both the order page and the order pdf after they have successfully placed an order. Location descriptions are also added to the location QR codes. The location comment, on the other hand, is used internally to generate store reports and is also used for the store admin interface e.g. on the order details page.
Further, and most importantly, you will require to choose a location type. And like we explained in the default location type section, a location can either be a table, a room, or a location (a school, an office block, a hospital, etc.).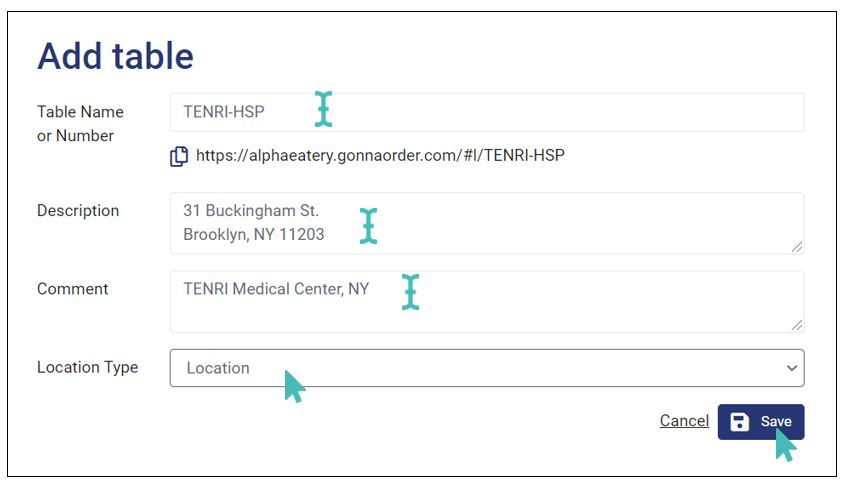 For the example case, we have added a location- a hospital to be specific-, but we could as well have added a hotel room. In that case, the location name might be something like B14L, the short description could be Room 14 on the left wing of the second floor, and the location type be definitely be a room.
Tip
You can split a location comment in multiple lines. Location comments are usually displayed in the order details and the order receipt.
---
Orders from designated locations and rooms
A customer placing an order from a room or other designated location (using the QR code or location URL) does not have to explicitly specify their table. GonnaOrder will prefill the details from either the QR code scanned or the URL they entered in their browser. Therefore, if a TENRI medical center staffer scanned the QR code to order food, GonnaOrder would prefill the table field and submit the appropriate location information. Orders placed from a room would refer to the room and show the room description you provided when creating the room.
| | |
| --- | --- |
| An order placed from a location | An order placed from a room |