You are always welcome to make changes in your profile. Whether it is your address or other personal information, you have full access to make the changes.
---
On This Page
---
Find profile settings
After successfully creating an account and accessing the dashboard, you will find your email address at the top right corner of your account dashboard. Click on your email address to find 3 dropdown options.

Profile change
Change Password
Logout
Here, click on the Profile change option from the dropdown.
Change profile information
After you click on the Profile change option, you will be redirected to the page with your profile information. Here you can make the necessary edits as per your need.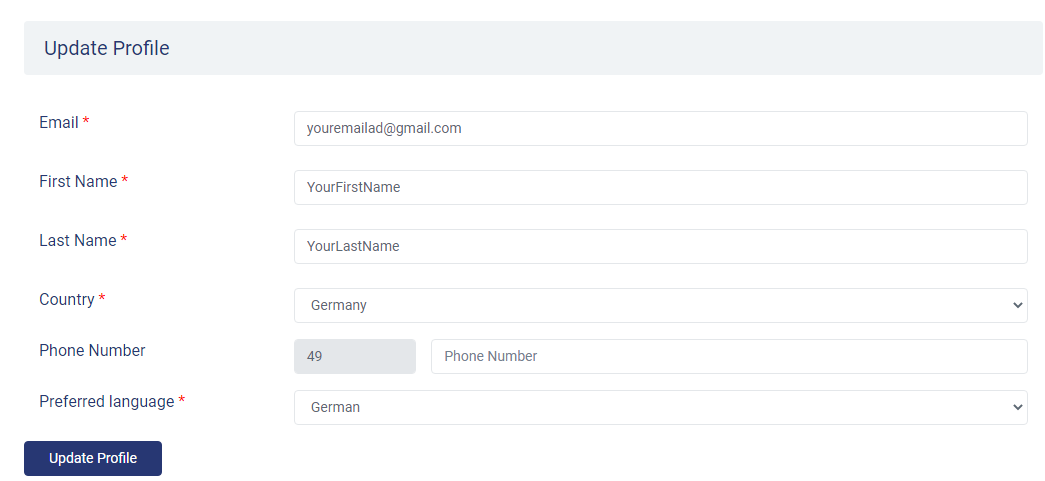 Email: This is the email that you'll use to get information from GonnaOrder. If you change this email, you'll need to login to your account with the changed email. You'll also receive a confirmation email to authorize the Email change.
First Name: Here, you'll be able to change the First Name of the user. If you are allowing your business partner or your manager then you may consider changing the First and Last Name.
Last Name: Here you'll be able to change the Last Name of the user for your account.
Country: You can change the name of the country here. This is the country associated with the account.
Phone Number: You can change the phone number here. If you recently changed your phone number then please update the recent contact number here.
Preferred Language: You can change the preferred language for your account here.
After making necessary changes, please click the Update Profile button to save your changes. You will see a confirmation message and receive an email to confirm the change of Email information.
---