Globalpayments is a financial technology company that provides payment processing services to merchants and businesses of all sizes. The company offers a range of payment solutions, including online payment gateway and mobile payment solutions. Connect your Globalpayments to your store and start receiving payments today.
| | |
| --- | --- |
| Website | www.globalpayments.com |
| Supported Payment methods | Credit and debit cards, Apple Pay, Google Pay, Paypal |
| Available countries | United Kingdom |
| Payment provider logo | |
---
On This Page
---
Getting Started With Globalpayments
To begin using Globalpayments as your payment provider, you need to first request a merchant account by contacting their support team. Alternatively, you can use an existing account, but you would still need to request the integration details from your account manager.
The Globalpayments team will provide three information items required to connect your store. These are:
the Globalpayments merchant ID
Shared Secret
Account ID
Once the details are provided to you, open your GonnaOrder store and go to Settings >Payments. Find the Globalpayments section and click Connect with Globalpayments. Fill in the respective fields and click Connect to save.

Once your Globalpayments account is connected to your GonnaOrder store, your store will start facilitating paid orders. All order payments will be processed, and funds will be stored in your Globalpayments account.
---
The Globalpayments Interface
The Globalpayments payments interface is a secure page managed by the payment provider. When a customer initiates a payment, Globalpayments receives payment information from your GonnaOrder store and displays the relevant payment options and fields. After successful payment, Globalpayments redirects users back to your store.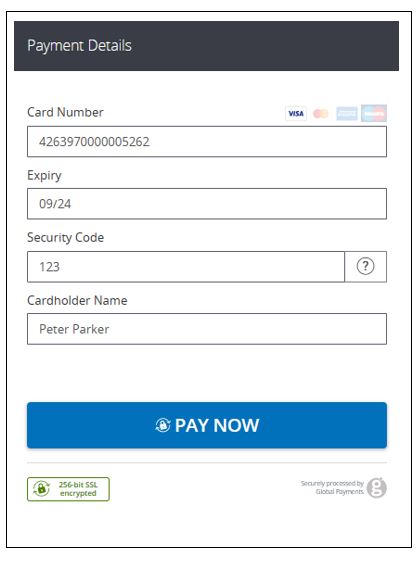 Deactivate Globalpayments
If necessary, you can disable Globalpayments payments at any time, but you must have an alternative payment option in place. Always check that you have provided the correct details on the Globalpayments integration section, and contact your Globalpayments account manager if you have trouble receiving order payments.

---
Remove Globalpayments From Your Store
If you wish to disconnect your store from your Globalpayments payments account, click the Disconnect button to the right of your Globalpayments account ID in your store's settings. Ensure you have configured and enabled an alternative payment processor before completing this action.