When you choose to create your digital store with GonnaOrder, the first and foremost thing is to provide certain basic and crucial details such as your store's name and location. For registering these details, you can go to Settings. On the Details tab under Settings, you will be asked to provide certain information. You can manage your store details from here.
---
On This Page
---
Add Basic Details
You can provide your basic details in this section.
To add or update your store's basic details, click on Settings from the GonnaOrder menu.
Then, click on the Details tab. This should be selected automatically when you click on Settings.


You can add or update these details under the Details tab:

Name: If you decided to change your store name for your online store, or if you changed your physical store name, then you can change your store name from here.
Description (Optional): Description is an optional field. However, it helps customers identify your store and what you offer. To make optimizations in your store description, you can edit the entries from here.
Country: It may happen that you previously made a mistake while providing country data in which case you can change it from here. Also, if you decided to launch your store in another country and want to use the already filled data for your new store, you can change it from here.
Time Zone (Optional): If you made an error while previously providing the time zone information, then you can change it here.
Address, Post Code, Region (Optional), City: Likewise, if you need to change your Address, Post Code, Region, and City information for your store, you can change it here. As you can see from the screenshot below, GonnaOrder has integrated Google Maps into this page which shows the exact store location once you enter your store's address.
Phone Number (Optional): If the contact number for your store has changed, you should update it from here so that your customers can reach you for inquiries.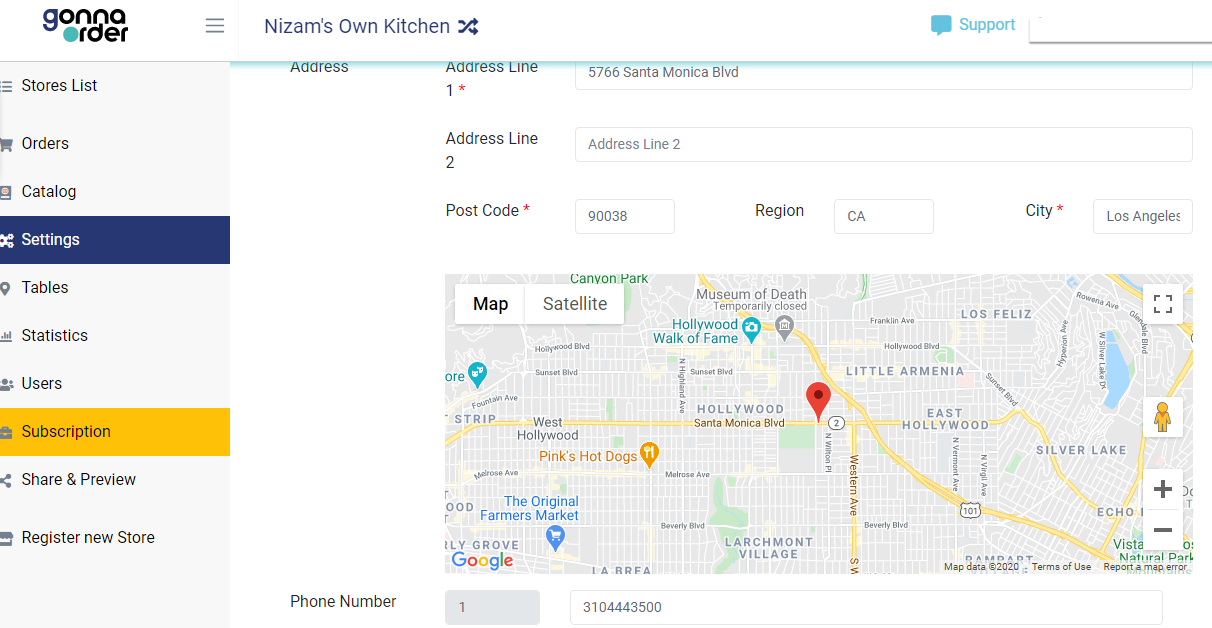 Add GonnaOrder Domain
What is GonnaOrder Domain?
When you register with GonnaOrder, you can enjoy the benefit of taking all the products of your store online. The web address — provided by GonnaOrder — under which your store and the offers can be found is a unique GonnaOrder Domain.
So, here is how to register your GonnaOrder domain.
You have to choose and add your GonnaOrder domain in Settings when you register your store. But, if you would like to change your GonnaOrder domain, you can do that from here in the settings. Rules for choosing GonnaOrder domain

While you choose a domain, just make sure to opt for a minimum of six characters.
It can only contain letters from 'a' to 'z' and/or any digits from '0' to '9'. Symbols such as '-' and '_' are allowed.
However, other special characters are not allowed.

2. Example of GonnaOrder domain: https://myexamplestore.gonnaorder.com where you choose the characters in-between "https://" and "gonnaorder.com".
Important information about GonnaOrder domain
The store owner is allowed to change the domain name whenever he or she desires.

But, if the store admin has not purchased a valid Subscription, then anybody can have access to the same domain name. And if someone else buys the Subscription with that domain name, then they will get the ownership of that domain and you may be deprived of using that domain name any more.

If the store admin has purchased a Subscription for the domain name with us, then the store admin will be the exclusive owner of that domain. They will have the authentication of their domain, and nobody else will be able to use that domain.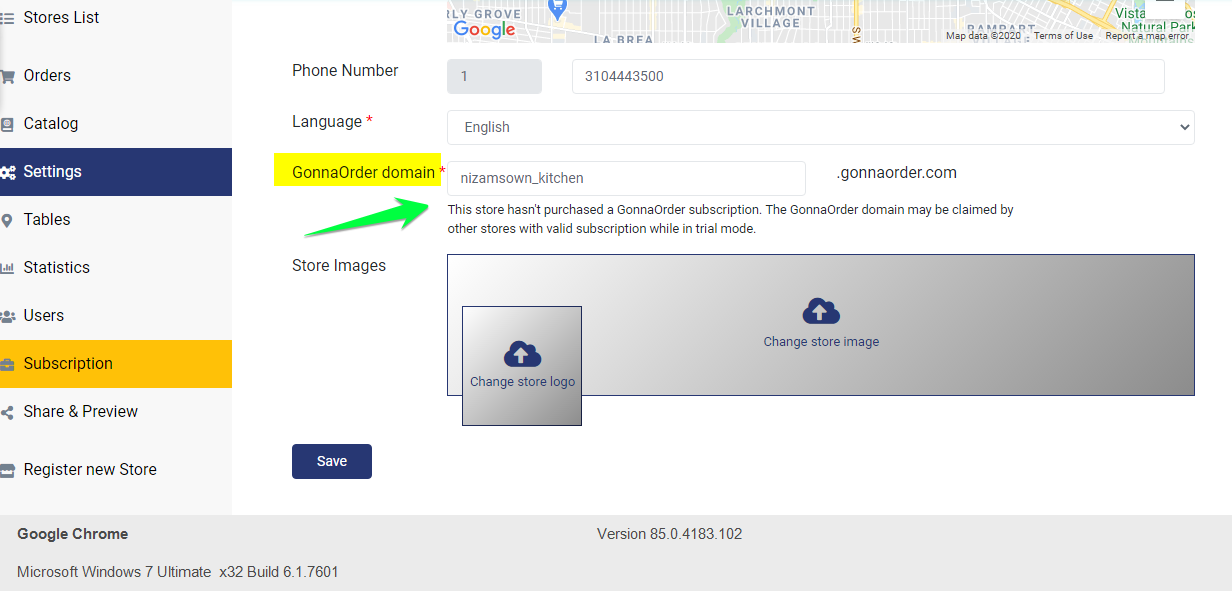 Select Default Language for Store
You can select any language as the default language of your store. While GonnaOrder allows you to translate your catalog to multiple languages, it is mandatory for all your catalogs and offers to be in the default language of your store.

After creating your catalog in a Default language, if you want to change your default language, you have to change all catalog items and provide translations into the target language first.
If you select the default language as one for which you have not provided translation in your catalog or offers, you will encounter an error like the one shown in the screenshot below.

---
Add Store Images
You can add a logo to your store. The addition of a logo to your store will give it a distinct identity. To add a Logo to your store:
Scroll down to Store Images and click Change Store Logo.`
Now, browse your images from the gallery and click Open after choosing your image. Click Save to set the image as your store's logo.
To add a Cover image to your store, click Change Store Image.
Choose your Image and click Open and click on Save to save your image.
---
This is how the Store Images are shown on your virtual Store.

---