Store items are the products you will display for sale. After successfully creating categories, you can list items under them. For example, Breakfast (Category) -> Garlic Bread (store item), Lunch (Category) -> Pizza (store item), Ice cream (Category) -> Vanilla Ice cream large (store item), etc.
GonnaOrder does not restrict the number of categories and items you can have in a single store, nor are there added costs for having more categories or items.
---
On This Page
---
Add a Store Item
Every item in your store must belong to a category. Therefore, you must create one or more categories before adding items. A category can have multiple items. Also, note that categories that do not have items listed under them do not appear in the customer menu.
To create a store item, click on the name of the category under which you want to add it, click on Add Item, and continue.

Naming a Store Item
The name should be brief and self-explanatory. Say, it should be easy for people to know what the product is about.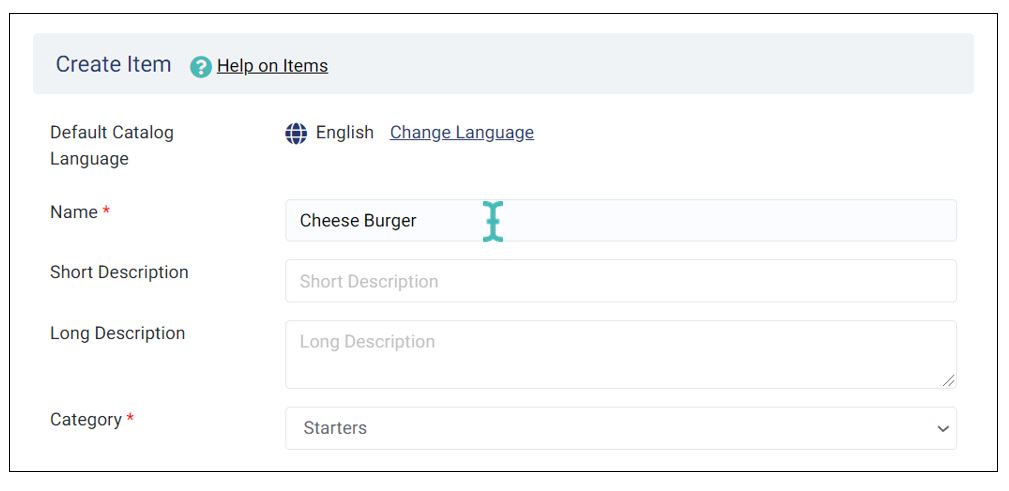 ---
Set Item Descriptions
Short Description
A short description is a concise sentence about the product. It should clarify your product so customers understand what they are ordering. The short description appears on the menu and the item details page, just below the item name.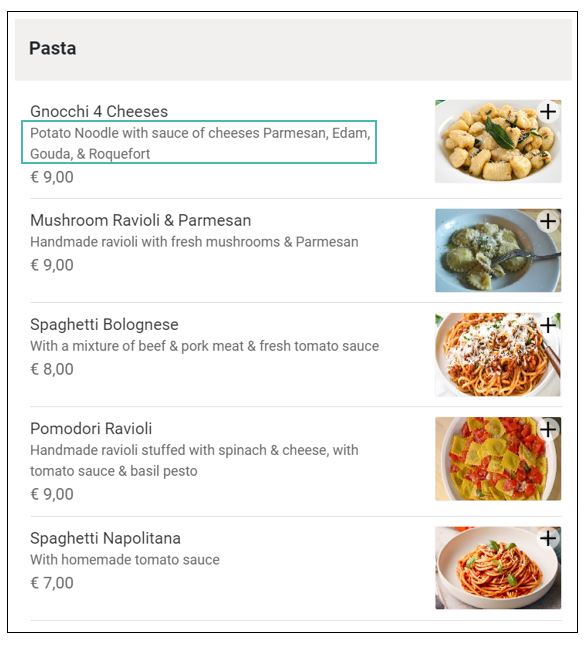 ---
Long Description
You can optionally add a long description to your product. It is useful when you want to explain more about your product or when you want to provide customers with more information about a store item. The long description appears on the item details page, below the product name, and the short description after the customer has clicked on the item on the menu.
The description field allows you to have new lines, bold words or phrases, write in italics, and link to external websites.
GonnaOrder will automatically detect a new line and a link to a website after you save the description. To add bold text, type two asterisks before and after the phrase or word, **bold**: bold. You can add an italicized phrase by typing two underscores before and after the phrase, __italic__: italic.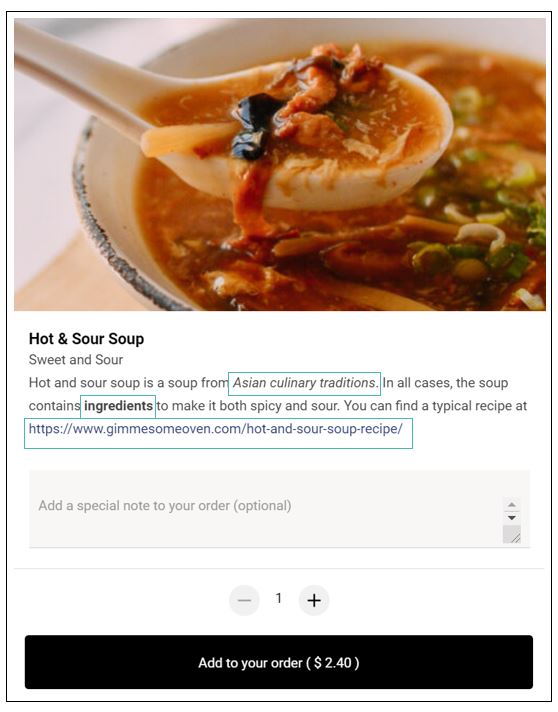 ---
Highlight Items With Icons and Emojis
Icons and emojis can help attract customer attention to your items. You can add icons to the catalog name and short description, item name, short description, price description, and long description.
Please note that not all icons are supported.
You can copy and paste the following examples to your catalog (Only copy the symbol):
| | | | | | |
| --- | --- | --- | --- | --- | --- |
| Star: ⭐ | Sparkles: ✨ | Sparkle: ❇️ | Coffee: ☕ | Eight spoked asterisk: ✳️ | Ballot box with check: ☑️ |
| Heavy checkmark: ✔️ | Eight pointed black star: ✴️ | Heart: ❤️ | One: 1️⃣ | Two: 2️⃣ | Three: 3️⃣ |
| Four: 4️⃣ | Five: 5️⃣ | Six: 6️⃣ | Seven: 7️⃣ | Eight: 8️⃣ | Nine: 9️⃣ |