Tables are the physical locations in your stores from which you receive orders from your customers in your business as a cafe, bar or restaurant. Every table has a unique table name or number, a unique link and QR code. A customer can scan the QR code of a table, view the menu and order. As these QR codes include the table number, the store staff is notified that the order is coming from the specific table, when viewing the customer order. You can download these QR codes from your GonnaOrder application and print them yourself or with the help of a print house.
You can use the Tables concept of tables to create QR codes for different locations of your store. Therefore, a table can refer to as a sofa in a night club, a bar area of a restaurant, a sunbed in a beach bar, a room in a hotel that allows the customers to request room service, an office location where items can be delivered, a house of some of your special customers, a bed in a hospital to bring food or anything else you can imagine. Because the table is the most common use case, we will refer to tables from now on, but keep in mind that the concept can be extended to any physical location that you suits your business best.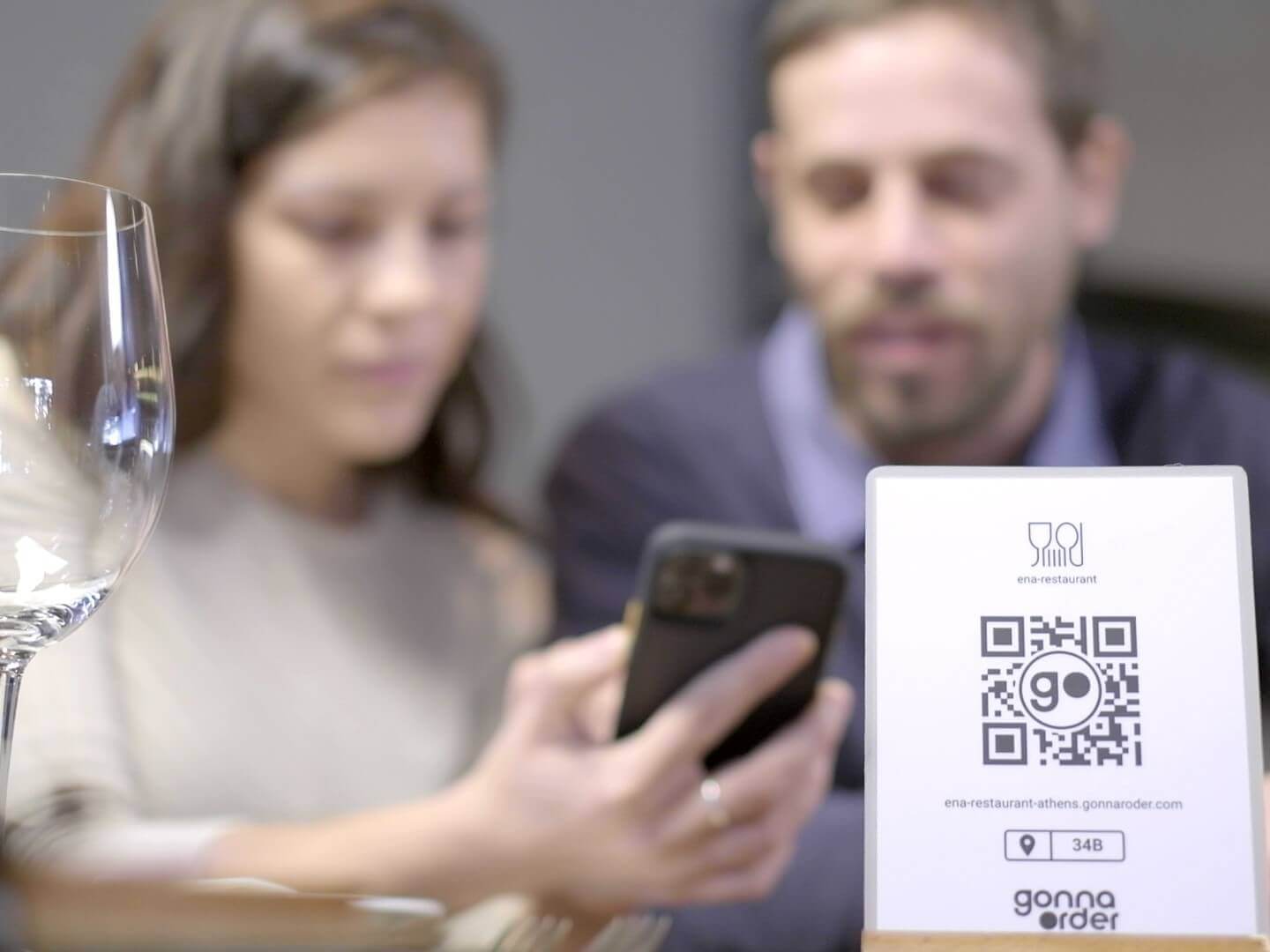 ---
On This Page
---
Create Update and Delete Tables
Create Tables in Bulk
The easiest way to start creating tables is by clicking on the Create tables in bulk button from the Tables section.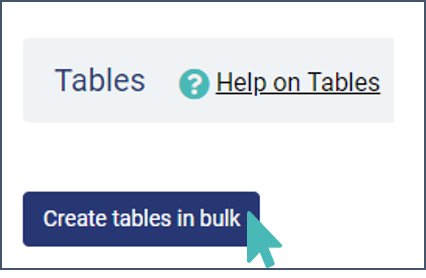 Then specify in the following screen the number of tables that you would like to create. The system will automatically create the number of tables you specified and will assign to each of the tables a number starting from the table with number 1. This is the label of the table that is shown to both the customers when they scan the QR code and the store staff when they receive the order.
You can also put a comment that will be used for all tables. You can change this comment later for each individual table. If you are not sure yet about whether you need a comment for all your tables, leave this field empty.
Click on Save and the tables will be created.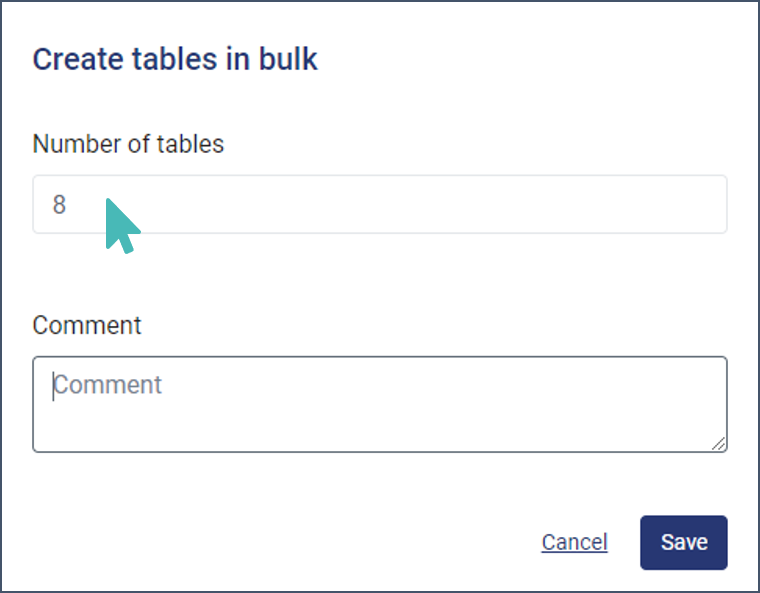 ---
View the List of Tables
In the next screen you will see these tables created for you.

---
Add an individual table
There you will also see the option to Add a table. You can use this functionality if you want to add a table at a later stage on top of the ones you have created. For example in case you increase the number of the tables in your store or if you require more tables than the ones you created in bulk. To add a table click on Add Table. You will then need to input a table name or number to that table and a comment optionally.
For the table name or number you can simply enter the table number (1, 2, 3, and so on). Alternatively you can also enter up to ten characters to code your tables (like "REC-TBL-RT").
If you need to add a comment to the table you can do so, but this is optional. You can add comment to explain the table name or number. This comment is not visible to the customers but it is visible to the store staff when they view the order, so that they better understand where this table is located. For example the table with name "REC-TBL-RT" can have the comment "Reception" or the table with number "5" can have the comment "lobby entrance stand".
---
Update Individual Table Properties
You can update the table fields like the location of the table or the comment. In order to update these fields of any particular table, click on the table name in the screen of the table list. Scroll down to the table name or number field and modify it. Example table names or numbers are "101", "A-23" or "ROOM202" or "OFFICE32. You can optionally add a comment to a table to identify it better when an order arrives from this table. Click Save and the updates will be saved.
When you update the table name or number you will see underneath a link. This link is the same link that is used when a QR code is scanned and it contains the table name or number. If this is easier for you, you can communicate this link to your customers, instead of sharing a QR code with the table number.
Finally, you should remember that you will need to reprint the QR code when changing the table name or number. This is because of the fact that the table link changes in this case.
---
Delete Tables
You may want to delete a table from GonnaOrder system when you don't use this table physical location any more, or if you have created it by mistake. To Delete any particular table which you created earlier, click on the number of that table from the table list. In the screen to update a table, scroll down and click on the Delete button. This action is not reversible so you need to be certain when want to delete a table that you don't need it any more. In case you delete a table, all orders that are made from this table will also not refer this table any more. You will still be able to see these orders though but with a blank table number
---
Download Table QR Codes
QR code File Type Formats
GonnaOrder allows you to download the QR codes of the tables directly from the GonnaOrder application and then print them and place them in your store or edit them as pictures. There are two formats that are supported
PDF Format: This format is an A6 PDF. This means that 4 of these fit in an A4 page that is the most common paper size for printing. This format is useful if you want to directly print the QR code and place it in a stand in your store. This format includes also the logo and name of your store. The format of the pdf is black and white
Image Format: This format is used if you would like to save the QR code as an image. You may want to do this if you want to add additional colours and instructions to your QR code and customize it according to your brand before printing it.
You can see in the below picture the difference in the layout of the pdf and the image formats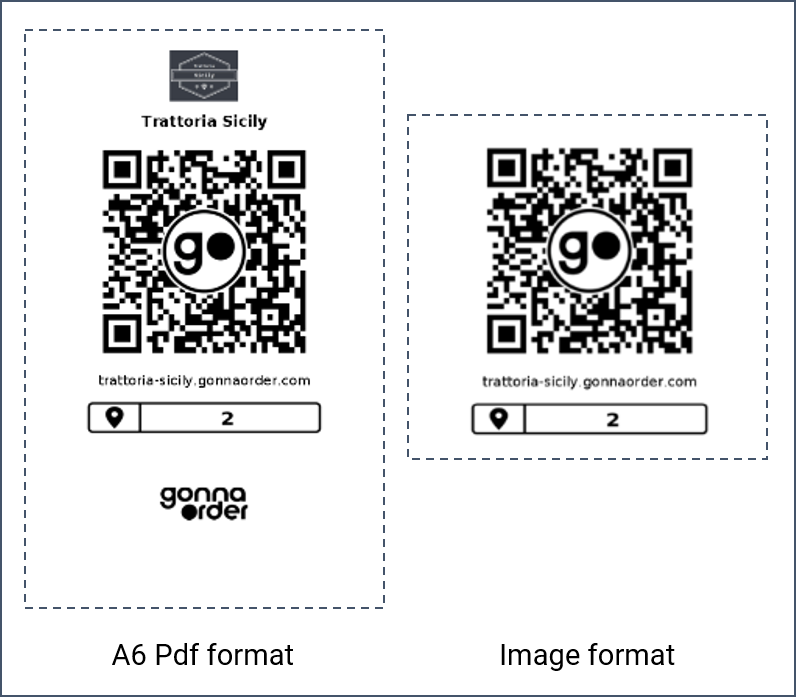 ---
Download all Table QR codes
The easiest way to download all table QR codes is from the main screen of the tables. You can choose to download each of the two formats described above, PDF or image. There are two buttons to download all QR codes either as a combined A4 pdf format, ready for printing or as a zip format with all images of the table QR codes

---
Download Individual QR codes
You may also need to download only QR codes of specific tables. For example, this could happen if you want to reprint a QR code of a table. You can easily find the QR codes for a specific table in the two formats described above when you select the table from the list of tables and you click to edit a table. There you will see the two types of QR codes with the corresponding link to download