Tables refers to the physical positions of seating Tables of your Cafe/Restaurant or table of a Hotel room. GonnaOrder allows you to create General QR Codes that can be used to receive general orders and Table precise QR Codes to actually identify the order from a specific table.
---
On This Page
---
Gonnaorder QR Codes
GonnaOrder gives you the option generate two types of QR codes. The  Generic QR codes can be used anywhere by the customers. They can get the same menu options, delivery option, and pickup options when they use Generic QR Code.
The next type of QR Code is Table-precise QR Codes. These are used by your customers to view the menu and order from the physical location or tables in your restaurant, cafe or hotel, which you identify using table numbers.
Generic QR codes
A Generic QR code is unique and is mostly used by businesses offering self-service, takeaway, and home delivery services.
This code can be used on social media to attract customers to your GonnaOrder store. Then you can leverage the power of social media to increase the orders on your store using this Generic QR Code. Apart from it, this Generic QR Codes of GonnaOrder stores also gain much attraction from the nearby passing customers.

You can view, download, print and place your generic QR code so when a customer scans it, that points to your order website, on the "Share & Preview" page.
  2.Table-precise QR codes
A Table-precise QR code tells the system automatically, exact location of the order. You will use multiple QR Codes, each specific to the table / location of where you serve your customers. This code auto attaches the table number when an order is received through those individual QR Codes. With the help of this code, it becomes easier to serve the exact order to the exact table or customer.  You can create, edit, and download your table-precise QR codes on the "Tables" page.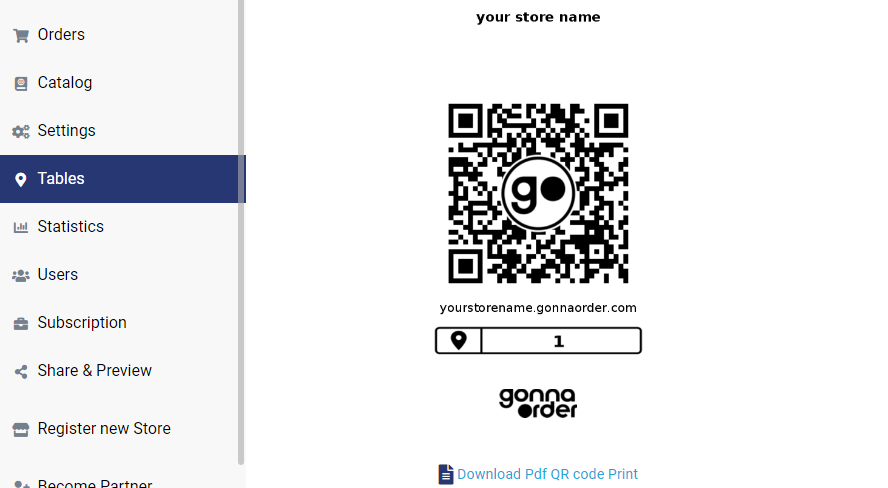 ---
Create a Table
To create a table click on Tables from GonnaOrder menu and click Create link. You may see numbers from 1 to 5 also, in that case tables are automatically created for you. You just need to click on those numbers to download or print table specific QR Codes.
Add the number of tables you want to create. For easiness in understanding, you can also Add Comments for tables. Then click Save.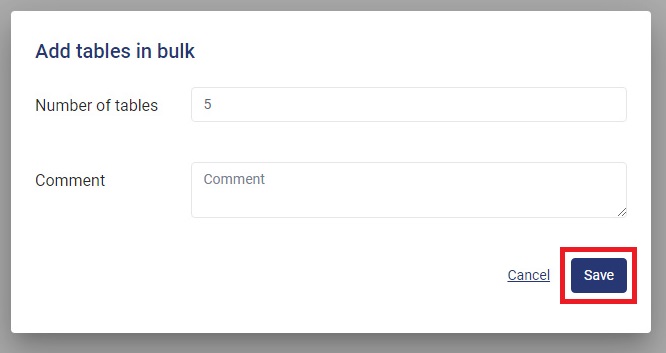 ---
Add A Table
To add a table click on Add Table. You will find this in the Tables admin menu.
Add a label to that table and a comment (Optional).

You can simply enter the table number (1, 2, 3, and so on) as Label. You can also enter up to ten characters to code your tables (like "REC-TBL-RT").
If you need to add a comment to the table you can do so, but this is optional. You can add comment to explain the table or label. ("REC-TBL-RT means Reception table of right" or "number 5 table is in lobby")
Then click Save.
---
Update Tables Locations
To update the location of any particular table, click on the label of that table.
Scroll down to Label and modify it. You can also update the comment of the table and click Save.
---
Delete Tables
To Delete any particular table which you created earlier, click on the label of that table. You may want to delete a table from GonnaOrder system when you have physically removed a table from the location.
Scroll down and click on the Delete link. This action is not reversible so please be sure when you want to delete a table.
---
Download QR Codes
To download QR codes PDF, click on Tables from GonnaOrder menu.
Then click on Download all table QR code prints as pdf button. This will download the QR Codes for all tables that you have created in PDF format which you can send to your printer to print out.
To download all QR codes in compressed zip format, click on the Download all QR code images as zip button.
---