Customers are the backbone of every business. And in the digital era, businesses can leverage customer information for marketing campaigns, targeted discounts and for communication. GonnaOrder makes it easier for you to view the details of the customers who have submitted their information along with orders in your store. It will also be easy to find a customer by name, phone or email from the long list.
---
On This Page
---
View customer information
The customer information summary is a list of all the customers who have submitted their information to your store when placing orders. A customer can submit their name, email address and phone number along with or after an order. GonnaOrder then takes this information and counts all orders placed by the same customer to form the customer information summary. A customer's first and last orders also form part of the summary where an order is identified by the day and time it was submitted to the store.
Orders are considered to have been placed by the same customer only if the name, email address and phone are similar for all submissions.

---
Sort the customers list
As previously stated, GonnaOrder counts the number of orders placed by each customer in your store. The customer information list also includes the dates when customers placed their first and last orders. These are key details that you can use to sort orders and gather useful insights.
For example, you may want to reach out to new customers who have placed their orders recently to thank them for choosing your store and probably offer a discount to welcome them back. In that case, you would need to sort the customers based on the First order field starting with the customer who placed orders just recently.

Sorting customer information based on the Last Order column can help you identify customer who have not placed new orders in your store for a long time. You can then create a personalized email to check on them and show them available store offers or discounts.
Similarly, you can sort customer information to find the most loyal ones and perhaps send them a discount voucher to thank them for the loyalty. To do this, you would need to click on the downward pointing arrowhead on the orders column. This will show the customers with a large number of orders first.
Also, for communication and other purposes, you may want to sort the customer information based on the customer name, phone number or email address. The names and emails are sorted in increasing or decreasing alphabetical order.
---
Search the customers list
Sorting is useful when you want to establish a trend, organize customer information, or when looking for a customer of interest without knowing their personal information. However, in a case where you are looking for a specific customer, sorting alone might not help. Hence, you need to use either the customer name, phone, or email address to narrow down the search.
For the name and phone number, you do not need to know each exactly since GonnaOrder shows you a new partial search for every new letter you type in the search fields. However, if you have to search a customer by their email, then you must know the exact address. You can use a combination of the name, phone number and email address for the search.
---
Download the customers summary
You can download the customers summary to evaluate and subject it to further analysis at your convenience. The excel file you download at any one instance contains only the data displayed on the visual summary. Therefore, if you have applied filters or entered a search value, then then the resulting excel file will take into account your sorting and search criteria.
You must delete all search terms and revert any sorting applied to the data to download a complete, unaltered summary of all store customers. You can extract the customer emails and use them for your marketing campaigns, or to perform targeted promotions.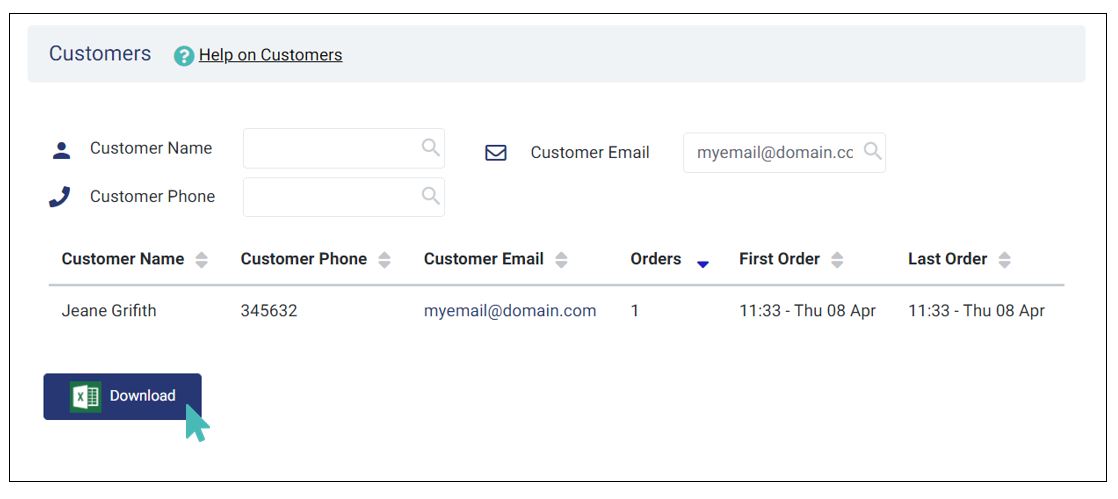 Tip
You can define mandatory or optional fields in customer information. This lets you determine what information is collected from customers placing orders in your store and hence what will appear in the customer information summary.
The customer name, email address, and phone number are mandatory for all delivery orders.