Stripe is an internationally recognized payment provider. It is used by thousands of e-commerce outlets around the globe. Connecting GonnaOrder to your Stripe account will allow your customers to pay by credit card and digital wallets with the money going directly into your Stripe account.
Website
www.stripe.com
Supported Payment methods
Credit and debit cards, iDeal (Netherlands), Bancontact (Belgium), Apple Pay, Google Pay, Microsoft Pay.
Available countries
Australia, Austria, Belgium, Brazil, Cyprus, Czech Republic, Denmark, France, Germany, Greece, Hungary, India, Ireland, Italy, Japan, Netherlands, New Zealand, Poland, Portugal, Romania, Spain, Sweden, Switzerland, United Arab Emirates, United Kingdom, United States.
See the full list of countries where Stripe is available.
Payment provider logo
---
On This Page
---
Connect Your Store to Stripe and Start Receiving Payments
To add Stripe as a Payment Provider to your store, go to Settings > Payment Providers. Under the Stripe section, click Connect with Stripe and proceed.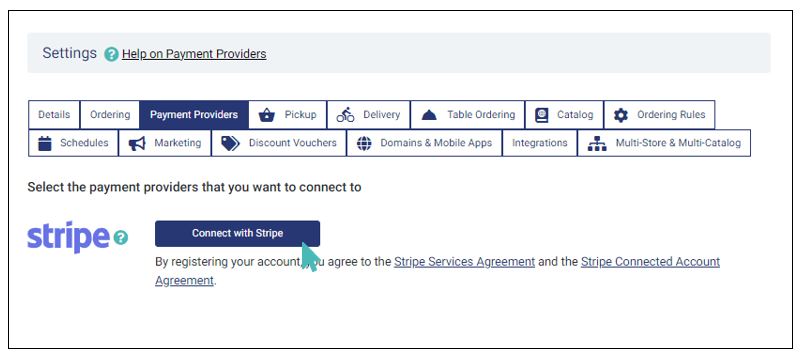 You can log in or register a new Stripe account to use with your store. Follow the instructions on the Stripe page and fill in the necessary information to facilitate the connection. When done filling in your information, choose the account to associate with your store and proceed to connect.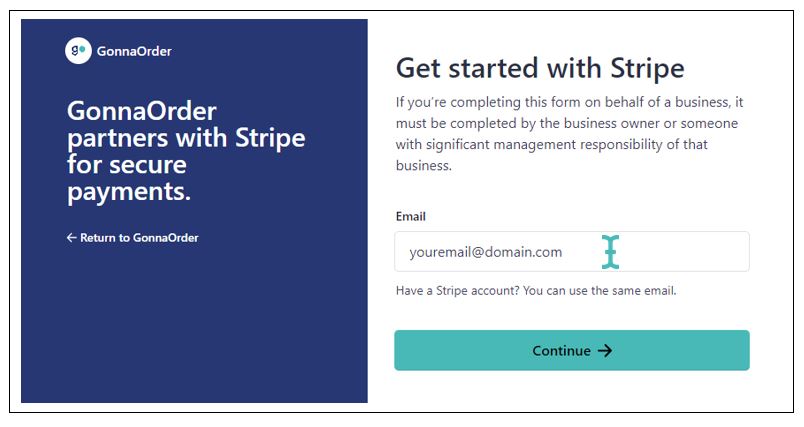 Stripe supports multiple payment methods. Notice that some methods are only available in selected countries e.g. iDeal for Netherlands and Bancontact for Belgium. Your customers can pay using any of the methods available in your country.
When connected, the payments section shows your Stripe account ID and provides buttons to enable/disable Stripe payments or disable the Stripe integration altogether.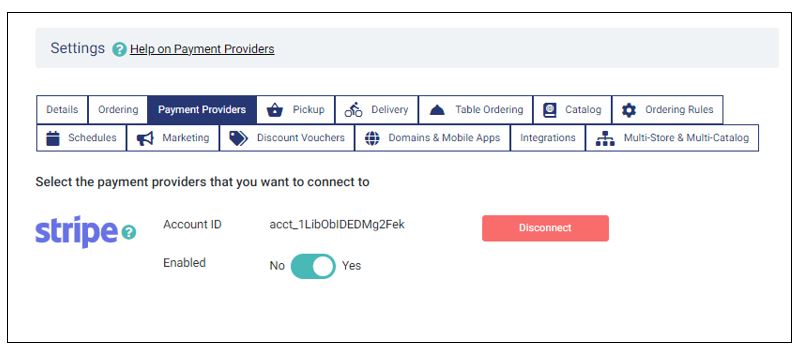 The Stripe payment interface is simple and shows the name of your store, the amount a customer ought to pay, and the reference order number.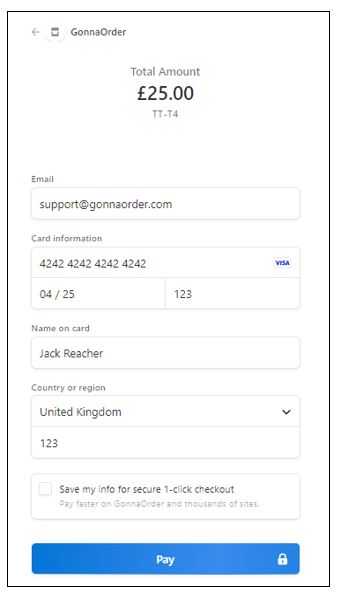 ---
Disconnect Your Store From Stripe
You can disconnect Stripe from your GonnaOrder store by clicking on the Disconnect button next to your Stripe account ID. You may need to set up another payment provider if you wish to continue receiving payments for orders placed in your GonnaOrder store.