GonnaOrder understands the value of your marketing efforts. We provide you with the chance to connect with your favorite marketing tools so you can monitor the value you get from your efforts. We have support for Google Analytics and Facebook Pixel which you will learn to connect with your store below.
You may want to read the blog on Combining GonnaOrder with Google & Facebook Marketing Tools to get a better understanding of how this works and how you benefit.
---
On This Page
---
Add links to your website and social media accounts
As part of the marketing settings, you can add a link to your website in GonnaOrder. You will also be able to add links to some of your social media accounts. Links that are currently supported include your website, Facebook, Instagram, and Cardit.io.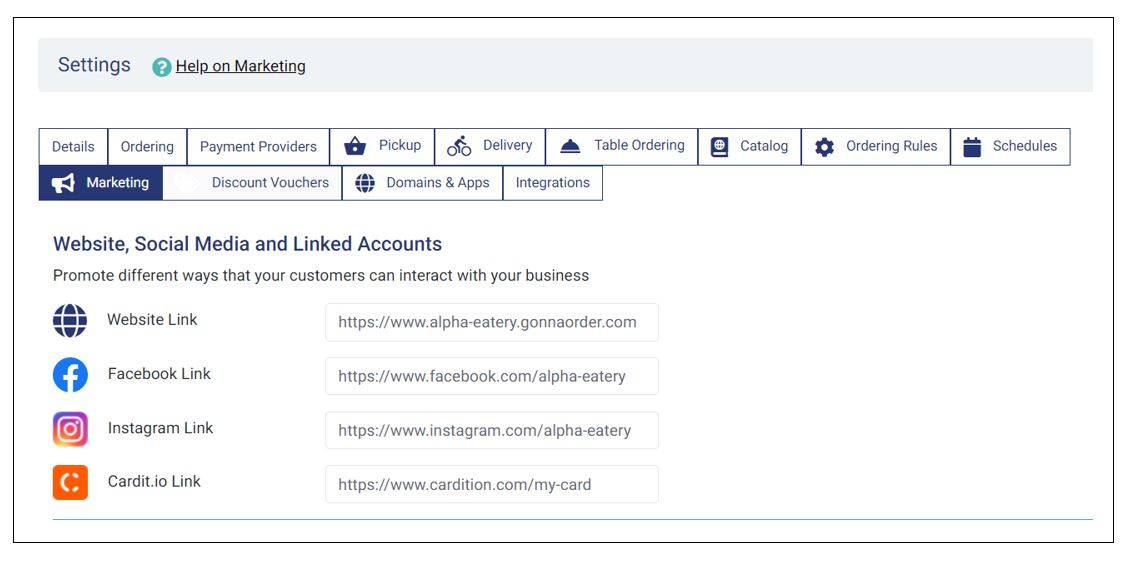 ---
Where your website and social links are used in GonnaOrder
Printed/ downloaded order receipts
Website link
An order receipt is generated for every order placed in your store. For every receipt printed or downloaded from your GonnaOrder dashboard or via the autoprint app, GonnaOrder adds your website link near the footer area.
Your website address is one of the ways that customers can identify your store.
If you have a custom domain name configured in GonnaOrder, then your custom website address will replace your GonnaOrder domain on the receipt. This is meant to give you ownership of your store and increase visibility.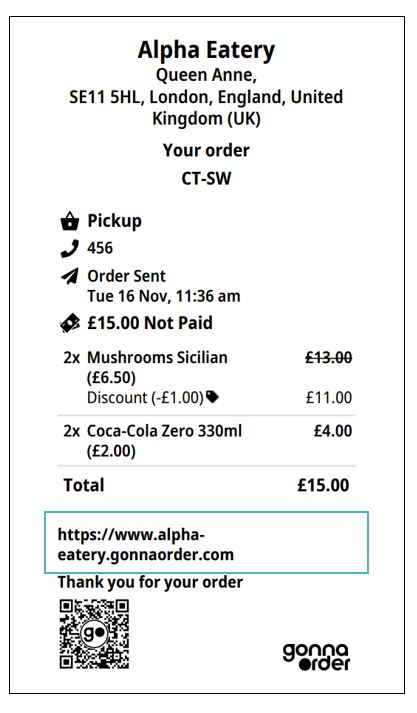 ---
Post-order Thank you page
GonnaOrder is committed to promoting you as a brand. As part of this commitment, we add your social media links to materials and website sections that might increase exposure to customers.
The post-order thank you page is one such strategic website section that is visible to all customers who successfully submit an order in your store. This page displays social media buttons that are linked to your social media profiles.
Facebook
Instagram
Cardit.io
If a customer clicks on a particular social media button, they will be redirected to the social platform represented by the button where they can view your profile and interact with you as a business.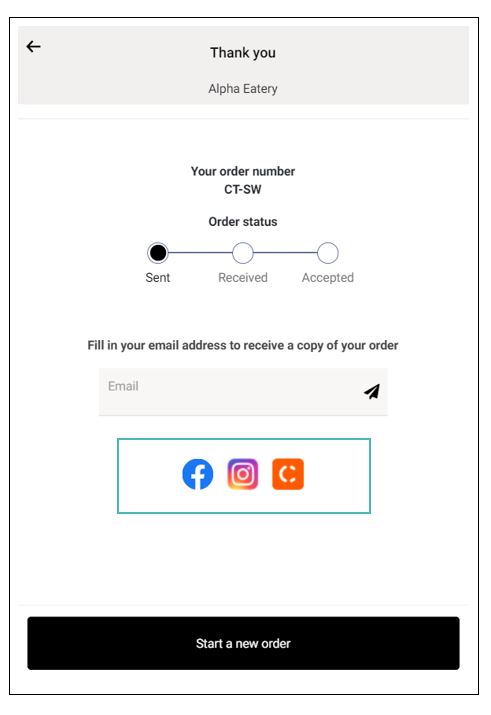 ---
Sharable store and discount voucher flyers
You can download discount voucher flyers from your GonnaOrder store. The flyers are automatically generated for all vouchers with status set to active and which have not reached their expiry date. Similarly, you can download and print a store flyer from the Share & Preview section of your store.
Both of these flyers are pre-designed and have information relating to your store.
Facebook name
Instagram name
Website link
---
Connect your store to Facebook Pixel
Facebook Pixel allows you to learn about the people reaching your store from your Facebook marketing campaigns. Pixel provides you with useful information that you can use to target users who hang out on Facebook. You can use the data and insights gained from Facebook Pixel to restructure your menu for more conversions.
Generally, the Facebook Pixel is a piece of code that should be inserted in the header section of a website. For, GonnaOrder, the process is simplified and you do not need to edit any code. Therefore, after copying the Facebook Pixel code from your business account, you need to paste it into a text file or word document to extract the actual code needed for your GonnaOrder store.
You may want to learn how to create a Facebook Business page if you do not have one yet. Also, this article shows you how Facebook Pixel works while this other one will show you how to set up and install Facebook Pixel.
The entire Pixel code looks like the one presented in the image below. You need to copy the numeric value similar to the one highlighted in yellow since that is what GonnaOrder uses to connect your store to Facebook Pixel.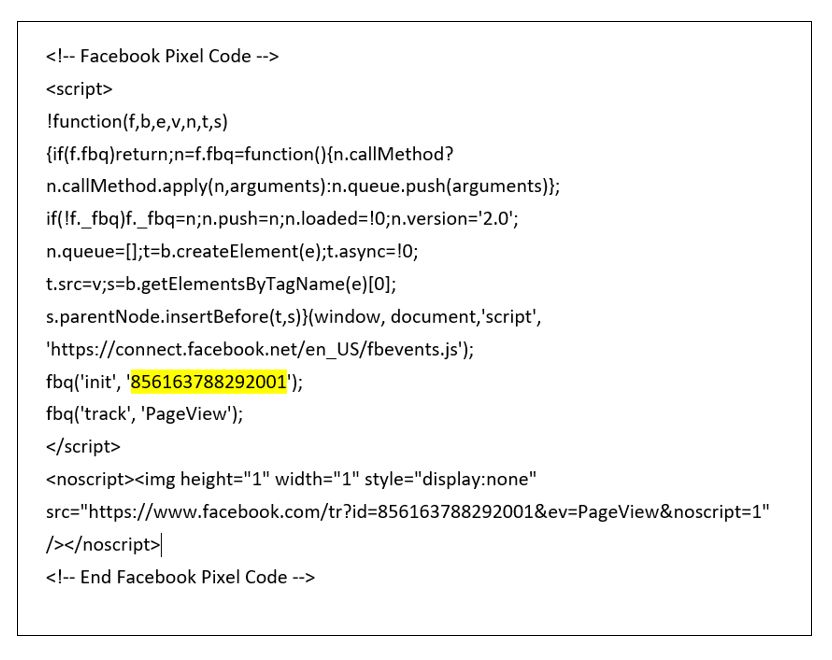 To connect your store to Facebook Pixel, go to Settings > Marketing.
You will need to copy your Facebook Pixel ID to the provided input field. GonnaOrder will automatically verify that your Pixel ID is in the correct format and save it to the store.
You also need to provide your Facebook website validation meta tag. You can get the meta tag by following the following steps:
Login to your Facebook Business account
Select Settings> Brand Safety> Domains
Enter your GonnaOrder domain in the dialog box that appears(you can the custom domain connected to your store)
On the next page, click on Meta-tag Verification and copy the Content part of the meta tag provided. It looks something like
Paste the meta tag content to the Facebook Website Validation Meta Tag field on your marketing settings

Like with the Pixel code, GonnaOrder will validate your meta tag content automatically. However, We advise you to send your Pixel code and meta tag to GonnaOrder via our customer support email: support@gonnaorder.com. You can use the same email to communicate with us if you have any challenges with your marketing settings.
Facebook Pixel and Cookies
Facebook Pixel stores additional information on a user's your computer, other than what GonnaOrder would otherwise store. The information is collected in accordance with Facebook's terms of use and cookies policy. For this reason, GonnaOrder will show your users a cookies acceptance card if you connect your Facebook Pixel.
On the cookies policy card, you will have three options; Accept cookies (consequently activate Facebook Pixel), Reject cookies (skip Facebook Pixel and continue) or read more. The read more option allows you to read how GonnaOrder uses cookies to improve your experience. Facebook pixel cookies will only be installed on devices where users accept cookies.
If a user accepts cookies during their first visit to your store, they will be exempted from the cookies notice for the rest of the times they visit your store from the same browser. However, they may see the cookies message again if they delete cookies from their browser.
---
Connect your store to Google Analytics
Google Analytics is a useful tool if you will be promoting your store using Google ads. Even without using the advertising program, Google Analytics provides you with useful information about the people visiting your store. Therefore, connecting your GonnaOrder store with Google Analytics opens up a whole new world of knowledge that you can then use to improve your sales.
You need to know your Google Analytics tracking ID to connect to your GonnaOrder store. First, visit your Google Analytics dashboard by signing in to analytics.google.com. You can also create a google analytics account if you dot have one yet. To view and copy your Google Analytics code, click on Admin from the side menu. Refer to this article to learn how to find your Google Analytics property Tracking ID.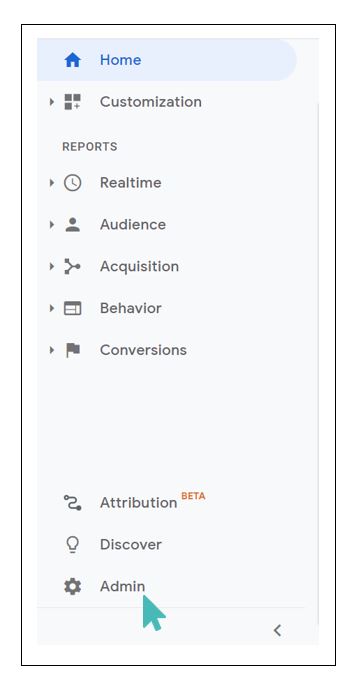 On the Admin page, you need to choose Property Settings if you have registered your restaurant as a property. It is in the property settings that you can view your Google Analytics tracking code, change the name of your property, and change the URL of your restaurant (property), among other settings.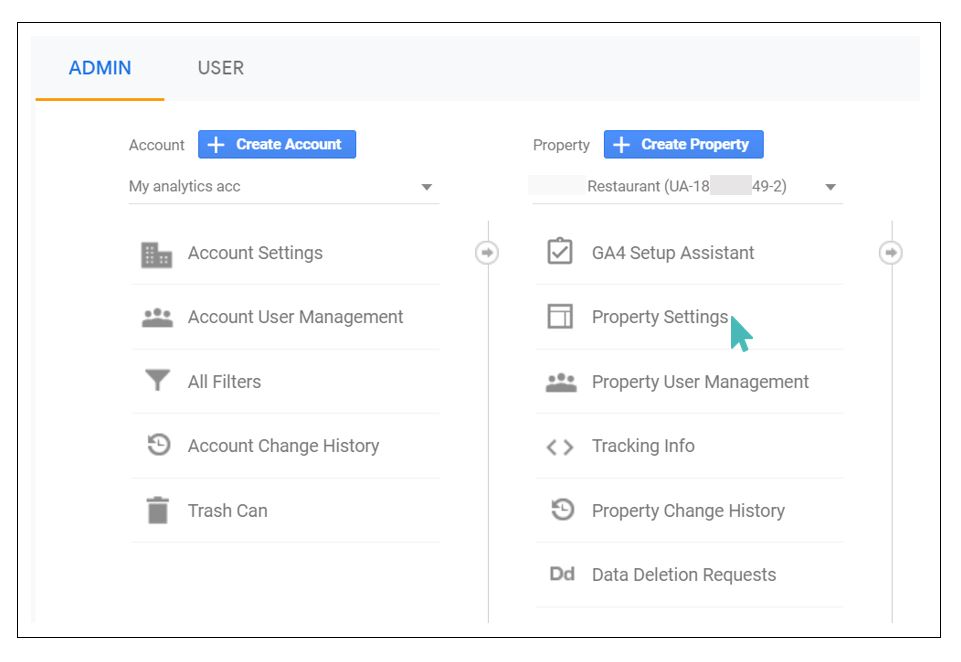 The tracking ID appears in the form of UA-XXXXX-Y. On the property settings page, it is displayed as the first entry under basic settings as shown in the image below. Go ahead and copy the code before proceeding with the next steps. Note that there is also a code snippet that is available under Tracking Info in property settings. You would only use this code if you were directly editing the source code of your GonnaOrder store. Since that is not the case, the tracking Id you have copied will be sufficient.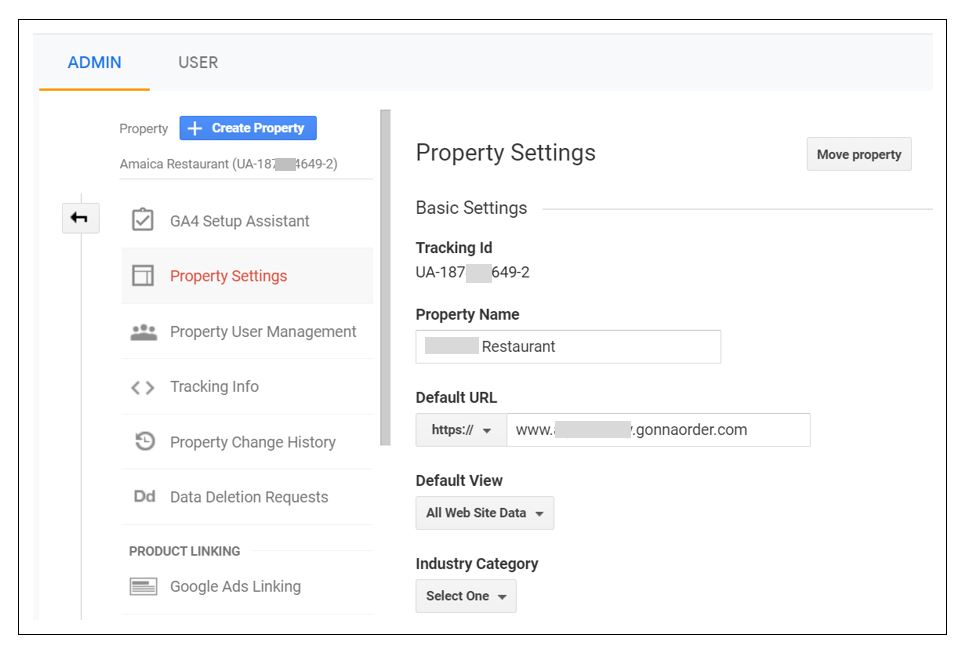 Now that you already have the tracking ID, proceed and navigate to your GonnaOrder store dashboard. Select the marketing tab like you did when connecting Facebook Pixel.
Just below the Facebook Pixel setting, there's a Google Analytics input field where you should enter your Google Analytics code. The page displays how the code you obtain from Google should look like. You only need to paste the tracking ID you copied from your analytics account in the previous steps. Press the enter or return key on your keyboard after pasting so the changes can take effect. You can then visit the analytics dashboard and start leveraging data and insights.

In the event you enter an incorrect tracking code, an error will come up and you will not be able to proceed. This applies to both Facebook Pixel and Google Analytics.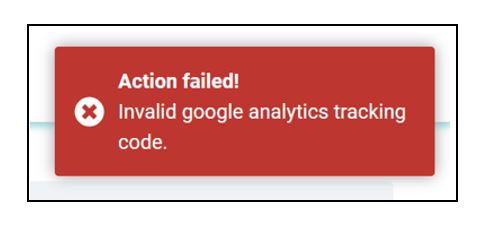 We advise that you read HubSpot's guide to Google Analytics. WebFx also has a beginners' Google Analytics guide and you may find it useful.