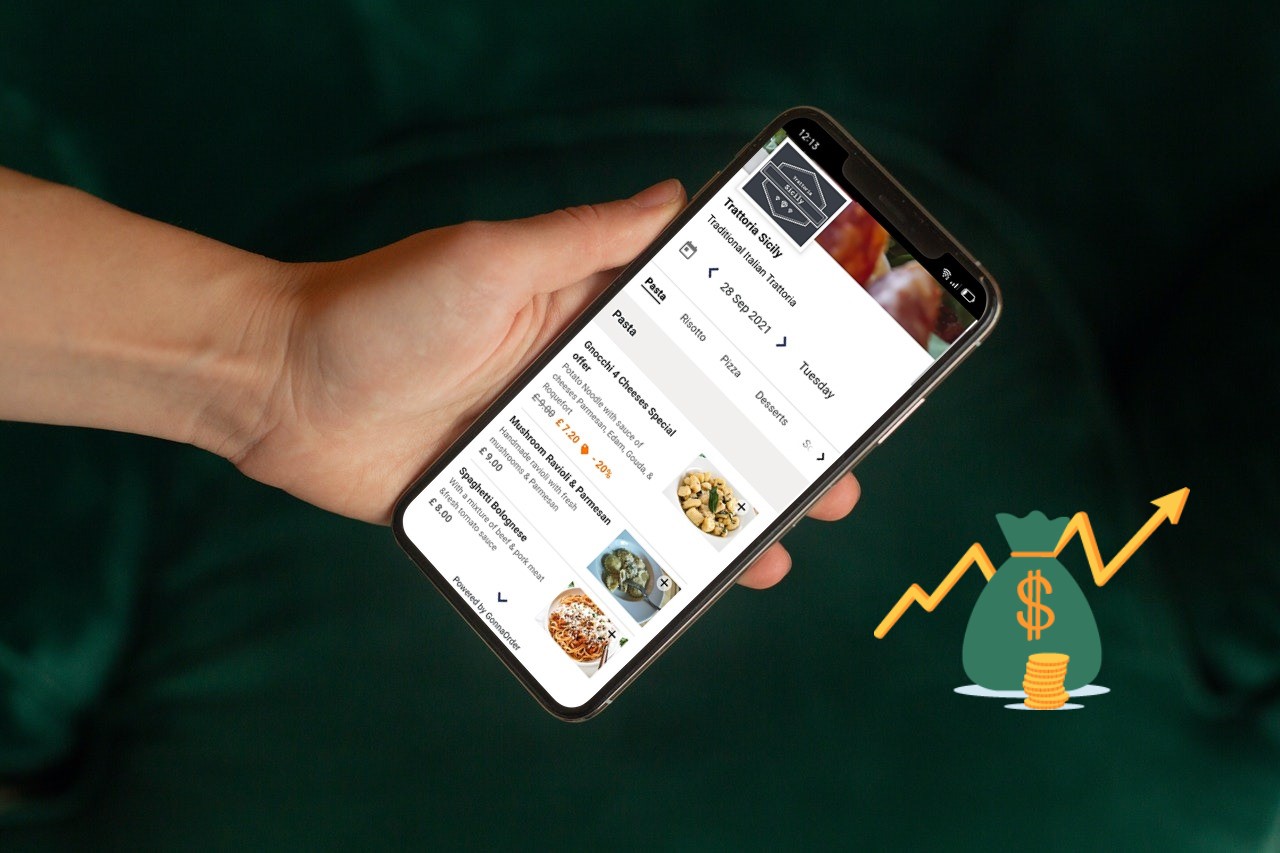 GonnaOrder store owners can increase store visibility and attract more sales with a branded store app. The branded app is available on request and for both Android and iOS users. Having a dedicated app means your store will be easily accessible to all customers, from anywhere and at any time. Additionally, a branded restaurant app can encourage your customers to pay for their orders online.
Through this article, we will show you five simple ways a branded restaurant mobile app can help grow your restaurant business.
1. Boosting brand awareness
Every company wants to be seen. To be recognized with ease, even in a world where new and almost similar businesses are launching each day.
A branded mobile app with your logo and brand name can help boost your brand. It is a way to put your name on your customers' mobile screens so they can remember you every time they need to order items that you sell. Using a branded mobile app is a helpful step to outdo your competition.
A branded mobile app for your restaurant also means customers can easily access your menu from anywhere, at any time. Therefore, the customer has more time to choose items from the menu and place an order. More often than not, this will lead to increased order values.
Download a demo store app built by GonnaOrder
2. Encourage online payments for orders
Mobile apps are inherently associated with online payments. A large percentage customers ordering via your mobile app will be more than willing to pay for their orders online. This is efficient for the customer since they do not need to visit your store to pay and collect their orders. It is also an advantage for the store since digital payments can help reduce the waiting lines significantly. With online payments, funds go directly into your preferred digital wallet or bank account and you can then use the funds for other purposes.
The GonnaOrder store-branded app, for example, comes with multiple payment providers that you can configure to collect payments from your customers conveniently. You are not confined to use a particular payment method, and you can make payments optional or disable them altogether.
3. Increase visibility to your customers
A mobile app for your restaurant is one of the reasonable ways of increasing visibility to customers without involving unreasonably high costs. Since most people take their mobile devices everywhere they go, you have the assurance that a customer who has installed your app will see it on their mobile screen at least once a day regardless of how they spend the day. This means there is a high possibility of old customers placing more orders through the app than dining on your premises. Therefore, you will be looking at a general increase in sales and, hence, revenue with increased visibility.
Additionally, a branded app acts as a shortcut to your restaurant and customers can view your menu and place orders without having to type your GonnaOrder store address each time. A branded app can greatly increase the customer experience for your store.
4. Attract younger population
The young population of the world is highly fascinated by technology. These are the people who spend hours with their eyes glued to mobile phone screens. While older people would prefer to make a physical visit to your store and place orders while there, younger people are more likely to place delivery or pickup orders through a mobile app or website. And given that mobile apps are usually more convenient than websites, having a mobile app will attract more young customers. With young people frequenting your store, you will probably benefit from free referrals as each customer may refer their friends and family.
5. Increase profits
A mobile app for your restaurant complements your website. It is an additional avenue, besides the website, through which customers can place orders. Furthermore, a mobile app gives customers the convenience of ordering from anywhere for as long as they have their phone. Having a mobile app can increase your delivery and pickup orders, which can only translate to increased profits.
The bottom lines
A mobile app is complementary to your website but could be the only thing stopping you from getting to the next business level. The convenience a branded app gives your customers is unparalleled. Along with improving customer experience, you will also create a path for you to gain increased profits and attract more customers.