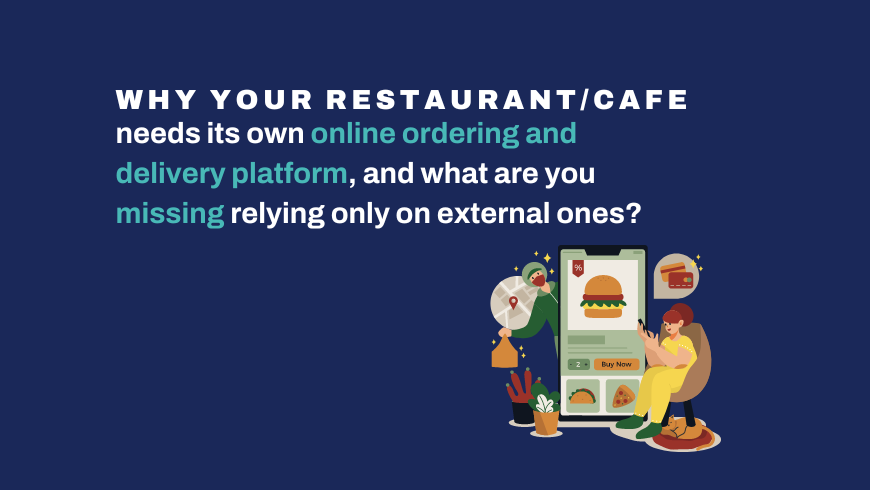 What are online ordering and delivery platforms? Does your business need one? Why should you prefer your own online platform, and what will you gain?

What Are Food Delivery Platforms?
You may be familiar with food delivery platforms as a restaurant or cafe owner. These platforms serve as intermediaries between consumers and multiple eateries, allowing customers to browse menus and place orders through a convenient app.
Ιt is, for example, like an e-shop for clothes where you see the variety of clothes it offers you, choose what you are interested in and buy it online; the same happens with your food.
Amazing, I know.
Here are some of the most well-known third-party platforms:

What has caused the significant surge in the popularity of third-party platforms in recent years?
In an era of convenience, online ordering, self-service kiosks, and mobile platforms have become vital in giving customers what they crave: a fast, personalized, and convenient food experience.
In recent years, the demand for app-based food delivery services has skyrocketed, especially during the Covid-19 pandemic when dining out was not an option. While these platforms may have been a lifeline for restaurants and cafes during the pandemic, they come with a significant drawback.

So, Is There Any Problem With These Third-Party Delivery Platforms?
If you look keenly, you will notice that third-party delivery aggregators have more disadvantages than advantages, especially for small businesses. Here is what we think is wrong with some of the popular delivery providers:
Inability to differentiate
When customers use an online ordering service, they become the app's customer, not the restaurant's. They only interact with your restaurant's brand when they taste your food. So how will you stand out from the rest?
Third-party delivery platforms are supposed to be a way for smaller businesses to stand out from the big brands, but the big brands are still there.
Commissions and fees
The biggest downside to using food delivery apps is that service fees and commissions can outweigh the benefits. The monthly fees usually range from 20% to 25%, sometimes up to 40%. If we consider the average profit margin on food, which is 30% – 50%, then there is almost nothing left for the owner.
Lack of control over the delivery quality and customer experience
Using third-party delivery services, a restaurant cannot monitor the delivery quality, such as the conditions under which food is transported. Another problem is if couriers do not serve customers well, it will negatively affect the restaurant's reputation.
There's very little that a restaurant can do if a food delivery aggregator has a problem and customers experience frictional points when trying to order their food online.
Problems with customer retention
A restaurant working with food delivery apps lacks ways to differentiate from the competitors. This might lead to the loss of even regular customers.
And the worst of all…
You pay for your own customers
Third-party delivery providers can have significant benefits for your business. However, if you are considering partnering with these platforms, it's important to understand how their fees can impact your restaurant's profitability, especially as in-person dining becomes less common. It's worth noting that you may end up paying a commission for customers who would have ordered directly from you otherwise.


Is it wrong to be on a third-party delivery platform?
No, you can use a third-party platform to bring additional interested customers.
But,
If you want all the revenue from your orders,
If you're a small business,
If you don't want to be charged for your own customers,
If you want to build your brand and get your own loyal customers,
If you're going to increase your profits with the lowest transaction rates in the market,
you'll need to get your own ordering system.

What Will You Need?
A modern menu – you must decide what you want to contain and add a price to each item.
Important elements – images of the item, customization options, visible reviews or ratings, and suggested upselling items
A system for online payments
Plugin to automatically collect and manage reviews
Of course, you would have to pay someone to build an online platform from scratch, and the cost can be 5000-10000€.
Sure, I have a better option for you!
You can have your own online ordering system without paying commission fees with the GonnaOrder Online Ordering System, which is only 29€/month.

What Do You Earn?
Elevate Your Brand Loyalty
What if your brand is not listed with a popular third-party delivery vendor? Chances are your customer loyalty will take a hit. However, if you have your own delivery channel in place, which is solid and reliable, your loyal customers will get to stick with you.
Smooth Delivery Experience
Even if you have packed the food well, if the delivery person has not followed the proper protocol, the final delivery experience takes a big hit. Having your own delivery personnel allows you to train them well and create a foolproof delivery schedule to maximize the delivery experience.
Ensure Seamless Communication
People expect the ordered food to come in fast and fresh. But often, the delivery agent is unable to reach on time, and this is when communication with the customer needs to be spot on. Many third-party apps fail to provide critical customer engagement or simply don't train their agents well on this note. But this is an essential step in the food delivery chain, and restaurants must ensure their own delivery channel puts great importance on this feature. A dissatisfied customer is sure never to return, resulting in a loss of business.
No Food Aggregator Commissions
Every food delivery orchestrated by a third-party vendor comes at a cost. Reportedly, third-party delivery costs almost 30% of every delivery order, which is not all cheaper as volumes scale. To really survive in the marketplace, having your own food delivery channel allows you to control the pricing and cost.
Extra Technology Conveniences
By having your own platform, you can go beyond just providing a menu and the ability to provide food delivery. You can make dining at the restaurant a pleasant experience without waiting in queues.
Give customers the possibility to reserve a table or even order their food to wait for them, ready and hot on the table as soon as they arrive.

How To Get Started With GonnaOrder?
Sign up
Upload your menu
Get the QR code ready for printing
Do What Is Right for You and Your Brand
There is no silver bullet to getting it right in the food delivery space. The best strategy is to have a delivery platform with customers at the core. With third-party delivery, this aspect is often marginalized. Having your own branded food delivery app gives you better control to offer a diversified menu, better pricing, and an enhanced food delivery experience.
Would you like to get an online ordering solution for your restaurant?