GonnaOrder supports functionality for printing your incoming orders. This functionality depends on the printer you have
Header & Footers
When printing ensure to disable printing headers and footers. These cause the boundaries of the print page to move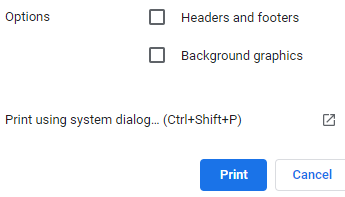 Print a Test Page
Try to print this test page to see if your printer can print from a web browser
https://parzibyte.github.io/print-receipt-thermal-printer/index.html
Use browser silent printing
Silent Printing is known as printing a document from your web browser directly to the printer, without having to change any of the printer settings or options. You can use the browser silent printing or kiosk mode for browsers as Google chrome in order to disable the print preview screen when printing an order. Kiosk mode additionally shows the application in full screen mode, which is helpful if it is the main application you run on the PC. At this stage, silent printing is only compatible with Mozilla Firefox and Google Chrome Web Browsers and the Windows operating system.
Note: Before setting up silent printing for your browser, keep in mind that this skips any settings and options when you print an order from GonnaOrder. Silent Printing also only prints to the printer that has been set up as the default, along with the paper size that has been set as the default. Ensure that your printer settings and defaults have been set up correctly before proceeding.
Setting up Silent Printing in Google Chrome
Create a new chrome.exe shortcut. Right click on your google chrome icon and select properties.
In the target field of the properties pop up window, add the following text at the end of target field:
chrome –kiosk — kiosk-printing.
Optionally add the url of your GonnaOrder admin panel as the starting page in Chrome settings and replace "chrome.exe" with "chrome.exe –kiosk — kiosk-printing http://admin.gonnaorder.com"
That's it! Then when you open it's fullscreen and locked down with the kiosk and auto printing functionality all in one! To quit the Kiosk, press Alt + F4 on your keyboard.